Kuuks (Küüks)
Cleves Franconian of Kuuk/Cuijk, Netherlands
---
Listen to this translation narrated with native pronunciation:
Translation and Narration: Chris Kerkhoff
Location: Kuuk (Cuijk), Northern Brabant (the Netherlands)
Transliteration: Reinhard F. Hahn, Seattle (USA)
Language Information: [Click]

---

[Dutch Spelling] [German Spelling]
---
't Winterkünningske
't Winterkünningske hai sien Nesjen in 't Karres'chopp. Op 'ne chuië Kehr waore d' Oulüî bèäj ütcheflooche – se woon wa te eäte haole för hüllie Jong'n – en liäte de Kliän helemool alleennig âchter.
Nao 'n Tiedje kümmt 't Winterkünningmenneke weer t' Hüüs.
"Wá 's d'r hier chebœrt?" set ie. "Wie het ollie wa chedaon, Kiendjes? Chüllie sieht helemool van Streek!"
"Och, Vád," seche se, "d'r quâm hier kreck sò 'ne chroëte Buhkeel vörbeej. Die sâg 'r sò bœs en quoi üt! Die bliekte mi' sien chrote Döpp in onse Näst. Dè het ons sò bang chemackt!"
"So," set Vád, "waor is ie cheblivve?"
"Nou," seche se, "hej is daor hin chechaohn."
"Wâcht mar!" seet Vád, "ik choi 'm âchternao. Süht mar, Kiender! 'k sall 'm kriäche."
Dann fliecht ie d'r âchterán.
As ie d'n Huk üm kümmt, löppt daor 'ne Löw.
Mar 't Winterkünningske is nie bang. Hej striekt ner op de Löw siene Rüch en bechinnt op 'm te s'chelle. "Wa hedde chej bej mien Hüüs te süke," set ie, "en mien Kiendjes bang te maoke?!"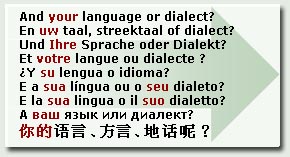 De Löw treckt sien Eche d'r cheen Barst van án en löppt chewoëhn dör.

Dann chüt ie noch vüll harder tekeëhr, 't kliän Opdonderke. "Che het daor chaar nix te maoke, sech ik u! En as che noch 's trüchkommt," set ie, "dann sülde 's wa' beleäve! Ik dui 't niet cher" set ie, en daorbej tilt ie sien eëne Pœtje op, "mar dann trapp ik u so oue Rüch in mekaor!"

Daorop fliächt ie wer trüch nor siene Näst.

"So, Kiender," set ie, " d'n dieje he' 'k dè well afgeleëhrt. Die kümmt noit mehr trüch."