Kuuks (Küüks)
Cleves Franconian of Kuuk/Cuijk, Netherlands
---
Listen to this translation narrated with native pronunciation:
Translation and Narration: Chris Kerkhoff
Location: Kuuk (Cuijk), Northern Brabant (the Netherlands)
Language Information: [Click]

---

[Dutch Spelling] [German Spelling]
---
't Winterkunningske
't Winterkunningske hai zien nésjen in 't karreschop. Op 'ne goeie kér waore d'oûwluî bèêj uutgevloge – ze wón wa te éête haole vör hùllie jong – en liête de kliên héllemól allénnig âchter.
Nao 'n tiedje kumt 't winterkunningmenneke wér thuus.
"Wá's d'r hier gebeurd?" zét ie. "Wie hét óllie wa gedaon, kiendjes? Gullie ziet héllemól van streek!"
"Och, Vád," zégge ze, "d'r kwâm hier krek zò 'ne groëte boe-kél vörbéj. Die zâg 'r zò beus en kwoi uut! Die bliekte mi zien grote döp in onze nêst. Dè hét ons zò bang gemakt!"
"Zo," zét vád, "waor is ie geblivve?"
"Noû," zegge ze, "héj is daor hin gegaon."
"Wâcht mar!" zét vád, "ik goi 'm âchternao. Zuut mar, kiender! 'k Zal 'm kriêge."
Dan vliegt ie d'r âchterán.
As ie d'n hoek um kumt, löpt daor 'ne lùw.
Mar 't winterkunningske is nie bang. Héj striekt nér op de lùw ziene rug en begint op 'm te schelle. "Wa hédde géj béj mien huus te zuke," zét ie, "en mien kiendjes bang te maoke?!"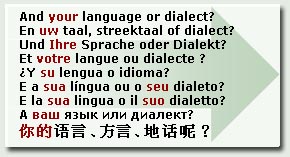 De lùw trekt zien ége d'r gén barst van án en löpt gewoën dör.

Dan gùt ie nog vul harder tekeër, 't kliên opdonderke. "Ge hét daor gaar niks te maoke, zeg ik oe! En as ge nog 's trugkomt," zét ie, "dan zulde 's wa beléêve! Ik doei 't niet gér" zét ie, en daorbéj tilt ie zien eëne peutje op, "mar dan trap ik oe zo owwe rug in mekaor!"

Daorop vliêgt ie wér trug nor ziene nêst.

"Zo, kiender," zét ie, " d'n dieje hé 'k dè wel afgeleërd. Die kumt noit mér trug."