Please click here to leave an anniversary message (in any language you choose). You do not need to be a member of Lowlands-L to do so. In fact, we would be more than thrilled to receive messages from anyone.
Click here to read what others have written so far.




What's with this "Wren" thing?
The oldest extant version of the fable we are presenting here appeared in 1913 in the first volume of a two-volume anthology of Low Saxon folktales (Plattdeutsche Volksmärchen "Low German Folktales") collected by Wilhelm Wisser (1843–1935). Read more ...


| | | |
| --- | --- | --- |
| | | |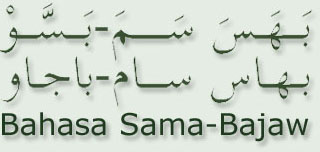 Sama Bajau (Sama-Badjao) Varieties
---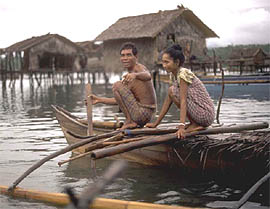 A Bajau couple off Sulu
Language information: Sama-Bajau is the name of a group of closely related language varieties used primarily by maritime nomads and by people whose ancestors are maritime nomads in the Philippines, Malaysia and Indonesia.
The name Sama is widely believed to be derived from the word sama-sama 'together' (e.g. in Malay, Tagalog; cf. Malay sama 'same', Cebuano sama 'same', 'matching', 'including', Tagalog –sama 'to take along'). But this may be a case of folk etymology, considering the alternative names Samal, Siyama and Sinama.
The name Sama-Bajau covers a number of language varieties used in the southwestern part of the Philippines and in Sabah, one of Malaysia's regions on the island of Borneo, as well as on and around Indonesia's Sulawesi (Celebes) Island. There are the following dialect groups:
· Sama
· Abaknon Sama
Capul and western Samar
· Pangutaran Sama
west central Sulu, Pangutaran Island,
Palawan and Cagayan
· Central Sama
Sulu and Sabah
· Southern Sama
Southern Sulu, Tawi-Tawi,
several other islands, and Sabah
· Balanguingui Sama
Sulu, coastal Zamboanga,
Basilan Island and Sabah
· Bajau
· Mapu (Bajau Kagayan)
Cagayan de Sulu, Palawan, Sabah
· Borneo (West) Coast Bajau
Sabah
· Sulawesi (Celebes) Coast Bajau
Sulawesi (Celebes)
· Yakan
Sulu, Basilan, Sakol,
Zamboanga, Sabah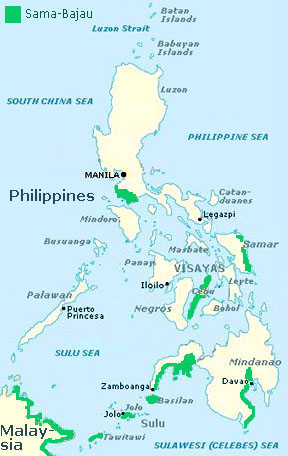 These varieties are to various degrees mutually intelligible, also with Tausug and other closely related languages of the area. Many Sama speakers are proficient in other languages, such as Tausug, Cebuano, Chabacano, Tagalog, Malay and English. The majority of them are Muslim, and of these many have some proficiency in Arabic as well.
Most communities that use Sama-Bajau language varieties are maritime nomads or are descendents of such, which is why they tend to be referred to as "sea nomads." Some of their ancestors were pirates, a few slave traders. Furthermore, being predominantly Muslim, they also tended to be referred to as moros ('Moors') by Christians, as did other Muslim communities of the Philippines.
These days, many speakers of Sama-Bajau varieties are sedentary. Nevertheless, remaining nomadism in conjunction with migration of sedentary populations have led to a spread of these speakers and their language varieties far beyond their original homeland to other islands, particularly to the eastcoast of Zamboanga Peninsula, to the east coast of mainland Mindanao, throughout Cebu Island and to coastal areas south of Manila on Luzon Island.
Like Malay and Tausug, Sama-Bajau varieties, if written at all, are traditionally written using the Jawi derivative of the Arabic alphabet, though these days these languages are more commonly written by means of Roman-based writing systems.
Genealogy: Austronesian > Malayo-Polynesian&nbsp> Western
Historical Lowlands language contacts: English
---
Click to open the translation: [Balanguingui Sama]

---
Other Philippine language varieties: [Click]

---
Author: Reinhard F. Hahn



© 2011, Lowlands-L · ISSN 189-5582 · LCSN 96-4226 · All international rights reserved.
Lowlands-L Online Shops: Canada · Deutschland · France · 日本 · UK · USA









Please click here to leave an anniversary message (in any language you choose). You do not need to be a member of Lowlands-L to do so. In fact, we would be more than thrilled to receive messages from anyone.
Click here to read what others have written so far.





What's with this "Wren" thing?
The oldest extant version of the fable we are presenting here appeared in 1913 in the first volume of a two-volume anthology of Low Saxon folktales (Plattdeutsche Volksmärchen "Low German Folktales") collected by Wilhelm Wisser (1843–1935). Read more ...

| | | |
| --- | --- | --- |
| | | |





Sama Bajau (Sama-Badjao) Varieties

---




A Bajau couple off Sulu

Language information: Sama-Bajau is the name of a group of closely related language varieties used primarily by maritime nomads and by people whose ancestors are maritime nomads in the Philippines, Malaysia and Indonesia.
The name Sama is widely believed to be derived from the word sama-sama 'together' (e.g. in Malay, Tagalog; cf. Malay sama 'same', Cebuano sama 'same', 'matching', 'including', Tagalog –sama 'to take along'). But this may be a case of folk etymology, considering the alternative names Samal, Siyama and Sinama.
The name Sama-Bajau covers a number of language varieties used in the southwestern part of the Philippines and in Sabah, one of Malaysia's regions on the island of Borneo, as well as on and around Indonesia's Sulawesi (Celebes) Island. There are the following dialect groups:
· Sama
· Abaknon Sama
Capul and western Samar
· Pangutaran Sama
west central Sulu, Pangutaran Island,
Palawan and Cagayan
· Central Sama
Sulu and Sabah
· Southern Sama
Southern Sulu, Tawi-Tawi,
several other islands, and Sabah
· Balanguingui Sama
Sulu, coastal Zamboanga,
Basilan Island and Sabah
· Bajau
· Mapu (Bajau Kagayan)
Cagayan de Sulu, Palawan, Sabah
· Borneo (West) Coast Bajau
Sabah
· Sulawesi (Celebes) Coast Bajau
Sulawesi (Celebes)
· Yakan
Sulu, Basilan, Sakol,
Zamboanga, Sabah
These varieties are to various degrees mutually intelligible, also with Tausug and other closely related languages of the area. Many Sama speakers are proficient in other languages, such as Tausug, Cebuano, Chabacano, Tagalog, Malay and English. The majority of them are Muslim, and of these many have some proficiency in Arabic as well.
Most communities that use Sama-Bajau language varieties are maritime nomads or are descendents of such, which is why they tend to be referred to as "sea nomads." Some of their ancestors were pirates, a few slave traders. Furthermore, being predominantly Muslim, they also tended to be referred to as moros ('Moors') by Christians, as did other Muslim communities of the Philippines.
These days, many speakers of Sama-Bajau varieties are sedentary. Nevertheless, remaining nomadism in conjunction with migration of sedentary populations have led to a spread of these speakers and their language varieties far beyond their original homeland to other islands, particularly to the eastcoast of Zamboanga Peninsula, to the east coast of mainland Mindanao, throughout Cebu Island and to coastal areas south of Manila on Luzon Island.
Like Malay and Tausug, Sama-Bajau varieties, if written at all, are traditionally written using the Jawi derivative of the Arabic alphabet, though these days these languages are more commonly written by means of Roman-based writing systems.

Genealogy: Austronesian > Malayo-Polynesian&nbsp> Western

Historical Lowlands language contacts: English

---

Click to open the translation: [Balanguingui Sama]

---

Other Philippine language varieties: [Click]

---

Author: Reinhard F. Hahn



© 2011, Lowlands-L · ISSN 189-5582 · LCSN 96-4226 · All international rights reserved.
Lowlands-L Online Shops: Canada · Deutschland · France · 日本 · UK · USA