Sandy Fleming
[To Sandy Fleming's index] [Til Sandy Fleemin's index]
---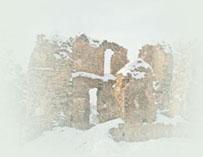 Anima
Hert alowe I writes her,
Een skyrin I skails my hert;
At the letter-fit I scarts my name:
At my name I keeks. My God.
This is no my name,
Thon's some fremmit haun o write.
What is this haun o write, likes o a wumman's?
Wha is this wumman, name o Saxsestra?
The jimp Carolignian scrip, nae fantoushery,
No my spídery cursive scartins, aa pirlicues.
Upower the snab o Snodlaw Brae,
Inby the Fortress o Denty Waas,
Stauns Castle Fount Sans Pirlicue,
Blaws a flag dyed hoddin grey.
The muckle touer's inlaid wi mosaic
An Princess Saxsestra Fount Sans Pirlicue
In her chaumer at the tap
Hauds a caunle in her niv.
She's buskit black on blae on white,
Her hair black, reid an blue,
Threefauld are her irises,
An sílence is her croun.
Keekin ootower her windae,
She casts a ee athort the carse;
She kensna whan the houlet skriechs,
But she sees the starnies rowe.
Her warld nae gowd or muizic hauds,
A space aa siller an sílence hers...
Whaur Lang Sandy douks for puddaes in the burn,
An houlets glides like gaists amang the trees
While five muins ryces in the icy lift,
A dooble broch surroondin thon pale ee.
Aa this she's pitten in my letter,
Naething o me writes my pen;
Her wirds is like a rapier,
My ettlt scrieve's irrelevant,
Parritch-hertit, wantin saut:
Hers aa sel-parry an riposte.
I speels the brae, comes ower the snab,
Gangs ben the inner port an spies the touer.
Fae the touer o the castle
Her haun o write me domineers:
Owerhailin wicht anima wonnes she,
Onding o het ile scaudin him
That sans jalouzement wields the pen
An thowless lats lowse the sword,
Clatterin doun the roond stair.
Chitterin I backs the white envelope,
Draps it inower the pillar box...
It gangs its was tae my dearie
That'll hae her letter doutsomeless
Be it fae my ain sel or
Fae her that draws my pen,
Fae her that loes my love.

---