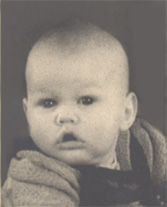 To Reinhard F. Hahn's Works
Please click on the titles below.

Prose Translation:
· Knuddel das Krokodil
· Alice ẹhr Ẹventüürn in't
Wunnerland
Poetry:
· Haiku (English)
· Haiku (Low Saxon)
· Handdook (Towel)
· I Can Picture Her Now
· In de Still (In the still)
· Pollard Willows
· Rondeau in F# Minor
· Footprints in The Sand
· Song of the Lowlands


· Lowlands on My Mind
· Ultraschall-Wegenleed


Poetic Translation:
· As Lovely as Stars
· Derart grausamer Durst
· Drinking Alone
Beneath the Moon
· Haiku 1
· Haiku 2
· Just One More Time
· Kinner vun'n Wind


· Mein Ruheplatz


· Neighbor in Black
· Never a Hue


· The Place of Mine


· Träume von De Valera
· Westwärts schauende
Dame
· Hello, Dear Friends!
· So 'n gräsigen Dörst
· One More Time
· Ultrasound-Lullaby


· Lusatia, Beautiful




Reinhard F. Hahn

Seattle, Washington, USA

[Afrikaans] [Castellano] [Deutsch]
[Nederlands] [Plattdüütsch] [Português]


English




Reinhard F. Hahn (known by most as "Ron" these days) was born and raised in Hamburg, Germany, has lived in Australia, China, Israel and the USA, and has traveled extensively in Eurasia, Australia and North America. Currently, he lives on the west coast of the United States, before that in Perth and Fremantle, Western Australia.

His interests can be summarized with the word "communication." Language and intercultural communication make up the core of his range of interests and passions.

After years of academic pursuits, Hahn revived his artistic passions at about the same time he rediscovered what these days is called his "roots." With it came his ancestral language Low Saxon ("Low German") which at that time, under pressure from the European Union, happened to gain official status in Northern Germany and the Eastern Netherlands.

Based on the assumption that Low Saxon is a language in its own right and ought to be treated and used accordingly, Hahn enjoys writing in it and translating into it works written in other languages, including Japanese and Chinese. Some of this is considered outlandish in some tradition-mired North German circles, because it takes the language outside the narrow confines with which centuries of suppression have left it.

Several of Hahn's Low Saxon works have been published in Germany, and in 1999 he won the Freudenthal Prize. His Low Saxon translation of Alice's Adventures in Wonderland was published in 2010.

Hahn is one of two founders of Lowlands-L and has been its chief editor since its inception in 1995.



---