Arend Victorie
---
A 1998 poem in Low Saxon of Drenthe, The Netherlands, about the passing of the writer's father, rewritten in English by Reinhard F. Hahn:
---
This is a poem I wrote in 1998 on the occasion of my Dad's passing, which happened in 1972. You can figure out how long it took me to get around to writing it. That's mostly because of that generational gap between my old man and me. I had been all wrapped up in the rebellious sixties and seventies, and he just didn't get it … and I just didn't get him anymore … Several years later all of it took shape in this poem.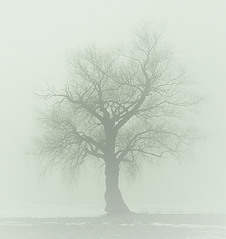 Just One More Time
(My Dad's Passing)
Just one more time I look into your eyes,
And they look deeply, quite deeply inside me.
Your mouth, it moved, wanted to speak—
Whispering scarcely audibly.
Hang on! Let me move closer up to you!
Your lips are trembling. Your breath is slow.
Your chest barely moves up and down.
I, too, would love to say something.
Or is it too late, too late for that?
My voice is failing. There're only tears.
Thoughts are traveling from old to young.
I take your hand …
Look at the wrinkles and the corns.
He is so cold!
There's a deep sigh …
Is this good-bye? …
No!!! …
Last word not yet.
I've yet got so much left to tell you!
But a son's guts fail halfway there.
Just one more time I look into your eyes.
Thoughts are traveling from you to me.
And then I see they're breaking up,
Now close to death … It's over now …
Now you are lying there. Your eyes are shut.
That intense look, it is no more.
A last kiss on your clammy forehead,
Just one more kiss …
And then no more …


---