Arend Victorie
---
A 1998 poem in Drenthe Low Saxon about the passing of the writer's father (transliterated to German spelling convention by R. F. Hahn):
---
Den Muuswieser (ahn Klicken) up besünnere drenthsch-neddersassische Wöör' leggen, üm jüm ehr Bedüden to sehn.
Ien Gedicht, wa' 'k in 1998 eschreven hebbe når Anleding van 't Hengåhn van mejn Va. Dat was in 1972. Ku' j' någåhn, hu lange a' 'k dår mit ewacht hebbe. Dat is mehr ekomen, dœrdat tüssen mien olde Bås en mejsölf een Generatiekloof ontståhne was. De wülige sestiger en sœventige Jåhren hadden fatt op mej ekregen en dat künn hej niet begriepen … en ik begreep hüm niet mehr … Jåhren later heff sich dat openbaart in dit Gedicht …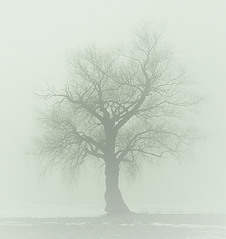 Noch ien Kehr
(Mien Va sien Hengåhn)
Noch ien Kehr kiek ik in uun Ogen.
Sej kiekt diepe, hiel diepe in mej.
Uun Mond beweg, wüll noch wat seggen,
hiel sacht Geflüüster,
Wacht! Ik kome well wat dichter bej.
Uun Lippen trillt. Ie ådemt langsaam.
Uun Börst gieht amper op en neer.
Ok ik süll geern u noch wat seggen,
of is 't te late? kann 't niet mehr …
Mien Stemme fallt weg, allent mar Trånen,
Gedachten gåht van Jonk når Old.
Ik pack uun Hand …
kiek når de Lejnen en når 't Eelt.
Hej is so kold.
Een diepe Sücht …
Kompt nou 't Ofscheed? …
Nee!!!...
Noch gien leste Gruut.
Ik hebb noch so vœl te vertellen,
mar mangs ontbrek 't een Sœhne an Muud.
Noch ien Kehr kiek ik in uun Ogen.
Gedachten gåht van u når mej.
Dann sieh 'k, dat sej langsaam breekt,
nou bej Dood … 't is vœrbej …
Nou ligg ie dår, uun Ogen eslœten.
Die felle Blick, die is niet mehr.
Noch iene Smock op uun klamme Vœrhœfd,
ien leste Smock …
Dårnå nooit mehr …

---