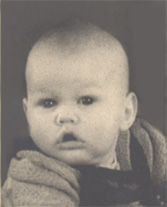 Naar de werken van
Reinhard F. Hahn
Klik op de titels hieronder.
Prosa-vertaling:
· Knuddel das Krokodil
· Alice ẹhr Ẹventüürn in't
Wunnerland
Poëzie:
· Haiku (Engels)
· Haiku (Nedersaksisch)
· Handdook (Handdoek)
· I Can Picture Her Now
(Ik kan me haar nu
voorstellen)
· In de still (In de stilte)
· Knotwilgen
· Rondeau in F# Minor
(Rondo in F# mineur)
· Stappen in'n Sand
(Stappen in het zand)
· Song of the Lowlands


· Lowlands on My Mind
· Ultraschall-Wegenleed


Vertaalde poëzie:
· As Lovely as Stars
· Derart grausamer Durst
· Drinking Alone
Beneath the Moon
· Haiku 1
· Haiku 2
· Just One More Time
· Kinner vun'n Wind


· Mein Ruheplatz


· Neighbor in Black
· Never a Hue


· The Place of Mine


· Träume von De Valera
· Westwärts schauende
Dame
· Hello, Dear Friends!
· So 'n gräsigen Dörst
· One More Time
· Ultrasound-Lullaby


· Lusatia, Beautiful
(Sorbisch volkslied)

Reinhard F. Hahn

Seattle, Washington, VSA

[Afrikaans] [Castellano] [Deutsch]
[English] [Plattdüütsch] [Português]


Nederlands
(Dutch)




Reinhard F. Hahn (tegenwoordig vooral bekend als "Ron") is geboren en getogen in Hamburg, Duitsland. Hij heeft in Australië, China, Israël en de VS gewoond, en heeft veelvuldig door Eurasië, Australië en Noord-Amerika gereisd. Momenteel woont hij aan de westkust van de Verenigde Staten, daarvoor in Perth en Fremantle, West-Australië.

Zijn belangstellingen kunnen met het woord "communicatie" samengevat worden. Taal en interculturele communicatie bevatten de kern van zijn interesse en enthousiasme.

Na jaren van academische opleidingen herleefde Hahn zijn artistieke geestdrift bij het herontdekken van zijn "wortels", zoals men dat tegenwoordig zo mooi noemt. Daarmee herontdekte hij ook zijn voorouderlijke Nedersaksische ("Platduitse") taal, die destijds onder druk van de Europese Unie een officiële status in Noord-Duitsland en Oost-Nederland verwierf.

Gebaseerd op de veronderstelling dat het Nedersaksisch een onafhankelijke taal is en dienovereenkomstig zou moeten worden behandeld en gebruikt, schrijft Hahn graag in het Nedersaksisch en vertaald hij in andere talen geschreven werken naar het Nedersaksisch, inclusief Japanse en Chinese werken. Dit wordt onder sommige Noord-Duitsers als buitenissig beschouwd, omdat dit de taal buiten de oorspronkelijke smalle grenzen neemt, veroorzaakt door enkele eeuwen van onderdrukking.

Enkele van de Nedersaksische werken van Hahn zijn in Duitsland gepubliceerd, en in 1999 won hij de Freudenthal-Prijs voor Nedersaksische literatuur. Ze Nedersaksische ("Platduitse") vertaling van Alice's Adventures in Wonderland (Alice's Avonturen in Wonderland) wordt gepubliceerd in 2010.

Hahn is één van twee stichters van Lowlands-L, en is daar sinds het begin van de organisatie de hoofdredacteur van.



---