Thomas Mc Rae

[To Thomas Mc Rae's index]
[Back to the index of the New McGonagall's poems.]
---
Poems by the New McGonagall
By Tomas Mc Rae, Brisbane, Queensland, Australia

The Squidledeydoo
By William McGonagall (his spirit) via Tomas Mc Rae, ©2009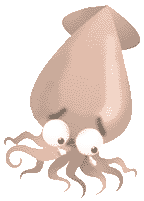 Whilst walking near the ocean blue
I bumped into a squidledeydoo
That waved its many tenticacules
And hissed, "Youse shoomans is damned fools!"
I responded to this shapeless clod
Of massive slimy cephalopod,
"How durst Thou mock me, quivering lump
Of jelly stuff? You cannot jump
Or skip and frolic all the day
Or sing a merry roundelay.
In fact, what bloody use are you,
You sad illiterate squidledeydoo?"
That squidledeydoo of monstrous size
Poured tears of sorrow from its eyes.
"I'm sorry you're offended, Mate.
I can't help bein' hilliteratate.
Books pulled unnerneath the sea
Dun't last long, I is tellin' Thee.
I try an read but, quite absurd,
Salt water roons the printy word.
Oh, woe is me because the sea
Is wot gives me hilliteracy."
I pitied the ignorant squiddledeydoo.
But what to help it could I do?
Then, by its side, beside the sea,
I opened my trusty ABC.
"For me extend your tenticacule.
I'll sit on it and we'll start school."
And so it started reading letters
And soon was freed from illiterate fetters.
Fast improving cephy knowledge,
It gained admission to Balliol College.
Alas, its fate was far from starry
When College cooks made calamari.
Academic plans just did not matter
When they deep-fried it dipped in batter.
The moral: Friend, whate'er Ye do,
Don't educate a squidledeydoo!
---
[To Thomas Mc Rae's index] [Back to the index of the New McGonagall's poems.]