Black Cat Crossing!

Black Cat for Luck: But Good or Bad?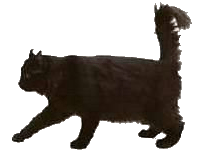 by Tom Carty (Thomas O' Carthaigh),
Tullamore (Tullach Mhor), Ireland

n Ireland and the UK—us Irish don't like the phrase "British Isles"—a black cat crossing your path was seen as good luck, whereas all my continental friends, Gemanic and Slavic, all say it is bad luck.
Its strange how people look on things ...