Piepen, Piepen, Basterjan
by Hannelore Hinz, Schwerin, Germany, 2008
Translated by Reinhard F. Hahn, Seattle, USA, 2008

ccording to the Mecklenburgisches Wörterbuch (Mecklenburg Dictionary), Basterjan refers to the Christian martyr Fabian Sebastian, Bishop of Rom (236–265). On February 20, his name day—but on other days as well—children used to invoke him while knocking bark off branches and fashioning flutes with it.
"While making flutes in springtime, village children would sing so-called Bastlöserreime ("bast peeling rhymes") such as 'Piepen, Piepen, Basterjan' …"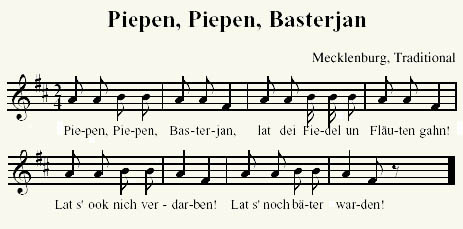 Pipes and whistles, Bastian,
Let fiddel and flutes have their way!
Please don't let them perish!
Let them grow yet better!
There are numerous variants of Bastlöserreime in various locations. In other places, children would call …
Fabian, Sebastian, laat mi de Widenfläut afgahn!"
(Fabian, Sebastian, let the willow flute play for me!)
(Müns, 1981)
Children would fashion not only simple flutes – which they would call for example Blarrpiep ("blare pipe"), Piepgoos ("pipe goose"), Wippwupp, and Huppupp—but more complex types as well, calling them Spitzfläut ("pointed flute"), Scheperfläut ("shepherd's flute") und Trumpet (trumpet). While working on such more complex types of flutes, they would most likely sing longer rymes, chain rhymes, to the same tune, as noted by Wossidlo at several locations.
Children would also sing curative verse and weather songs, furthermore teasing verse in reference to given names—all of them to the same tune.
Sources:
Müns, Heike (Her.), Niederdeutsches Liederbuch: Volkstümliche Lieder aus fünf Jahrhunderten, Rostock: Hinstorff, 1981
Wossidlo, Richard and Hermann Teuchert: Wossidlo-Teuchert mecklenburgisches Wörterbuch, mit Unterstützung der Mecklenburgischen Landesregierung, der Mecklenburgischen Landes-Universitäts-Gesellschaft und der Deutschen Forschungsgemeinschaft, 1937-, in progress. SJL PF5682.W93