Works Wanted

ot only members of Lowlands-L but anyone may submit travel tips and descriptions for inclusion here. Those who do so are welcome to add a few words about themselves. By submitting material they give us permission to share them here.
Please feel free to write on any relevant subject. We are particularly keen on information that benefits people's research or travelers' visits, any little-known facts or items. Another type of contribution we welcome is personal memories or passed-down elders' accounts.
Below are a few suggested categories of interest, although other relevant items would be just as welcome. All of these have implied "traditional" or "folk" in front of them.
Belief, Taboo & Superstition
Geloof, taboe en bijgeloof
Glauben, Tabu und Aberglauben
Myths, Legends & Other Tales
Mythen, legenden en andere verhalen
Mythen, Legenden und andere Mären
Customs & Rituals
Gebruiken en rituelen - Bräuche und Rituale
Celebrations
Vieringen - Feiern
Seasons & Cycles
Tijden en cycli - Zeiten und Zyklen
Environment
Leefmilieu - Umwelt
Trades, Professions & Livelihood
Ambachten, beroepen en levensonderhoud
Gewerbe, Berufe und Lebensunterhalt
Arts & Crafts
Kunst en handwerk - Kunst und Handwerk
Food & Drink
Eten en drinken - Essen und Trinken
Music, Song, Dance & Musical Instruments
Muziek, liederen, dansen en muziekinstrumenten
Musik, Lieder, Tänze und Musikinstrumente
Rhymes & Ditties
Rijmpjes en deuntjes - Reime und Spielliedchen
Fun & Games
Pret en spel - Spaß und Spiel
Sayings, Proverbs & Aphorisms
Spreekwoorden en spreuken
Sprichwörter und Sinnsprüche
You are welcome to send us anything from a brief paragraph to a full-length article, in any language. Also invited are digitized photographs, drawings, painting, sheet music and sound recordings. Just please make sure there are no copyright issues. All authors remain the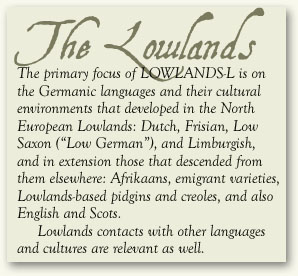 copyright owners while permitting Lowlands-L to display their works here.
We will publish the names and places (but not addresses) of all contributors, but we will consider using pseudonyms (pen names) as long as we know the real names (which we will keep confidential).
We welcome works in any language. However, we would prefer to have at least a summary in English of each as well, and we are willing to help with that.
If you are interested, please drop us a line under the subject line "Traditions" at lowlands.list(a)gmail.com (replacing (a) with @). And please provide your name (or write "Anonymous") and also your town and country.