Arend Victorie
---
Update: A Cissy Sighting!

(Cissy the Fog Witch)

This'll warm your mid-winter nights:
You won't believe it—probably with good reason—but I saw her again …

Cissy! …

Saturday evening in the very bright, spooky light of the moon. Luckily I had my photo equipment with me …
And there she was standing …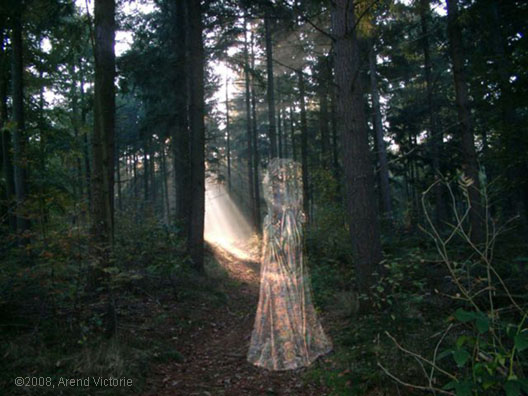 As usual, she made an eerie sight.
But her eyes, they sparkled as lovely as stars.
Dear girl, I wish I could offer you a place where you can rest, preferably in the arms of your beloved Allard.
But I can't, and if I tried to speak to you you'd become one with the night again.
Warm regards from Hoogeveen,
Arend Victorie, November 30, 2008
Translated from Drenthe Low Saxon by Reinhard F. Hahn
---
[Back to "Cissy the Fog Witch"]
---