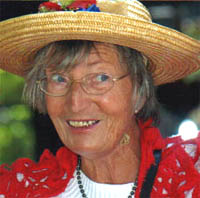 To Hannelore Hinz's Works
Please click on the titles below.
Poetry:
· Solch brutaler durst
· Sonn unminschlichen döst
Songs:
· Autumn


· Our Lowlands


Prose:
· The "Treckfiedel" of Mecklenburg
Musical Compositions:
· Haiku

·
Stappen in'n Sand


· Ultraschall-Wegenleed

Musical Performances:

· Mecklenburg Waltz


· Min Jehann

·
Stappen in'n Sand


· Windmöllerdanz

Hannelore Hinz
Schwerin, Mecklenburg-Western Pomerania, Germany
Hannelore Hinz is also known as "Treckfiedelhanne" ("Squeezebox Hanne"), because she tends to be out and about in that role. She kept holding the Low Saxon ("Low German") flag high while living under the East German government, and she continues doing so now, with the difference that she is now free to network with people anywhere in the world. She is currently catching up by studying English.
On her own pages you can learn more about her and her works.
Hannelore Hinz is an honorary member of Lowlands-L. It all began when she translated the story about the wren into Mecklenburg Low Saxon for our anniversary project.
---