---
Language information: Afrikaans began in the 17th century as a language variety then referred to as "Cape Dutch." It developed essentially from Dutch, Zealandic and other Low Franconian varieties with influences from Low Saxon, Malay, Khoi-San and Bantu languages, French, English and many others, creating a language that is uniquely suited for life in Southern Africa.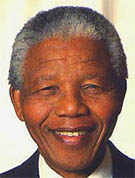 A native speaker of Xhosa,
former South African presi-
dent Nelson Rolihlahla Man-
dela is fluent in Afrikaans.
Many South Africans that are not ethnically "Afrikaaners" can speak, read and write Afrikaans.
Even though its status has been lowered and is not rarely discriminated against in "New South Africa," Afrikaans is still being used as an educational medium, also in a few South African Universities.
Contrary to common belief, Afrikaans is not only used by "Whites" but is used by even more people of part European and part African descent, also by people of other ethnic backgrounds, such as descendants of "Malay" slaves and formerly Khoi-San-speaking aboriginal Nama (Khoekhoe, formerly "Hottentot") and Khoe (Kxoe, formerly "Bushmen").
Afrikaans is currently used as a native language by close to six million people, the vast majority of them in South Africa.
Genealogy: Indo-European > Germanic > Western > Low German > Low Franconian > Dutch > Afrikaans
Historical Lowlands language contacts: English, [Frisian?], [Low Saxon?], [Scots?], [Zealandic?]
Author: Reinhard F. Hahn
---
Click to open the translation: [Afrikaans]

---