Please click below to leave an anniversary message (in any language you choose). You do not need to be a member of Lowlands-L to do so. In fact, we would be more than thrilled to receive messages from anyone. Please tell us your name and your general location (city, state, country).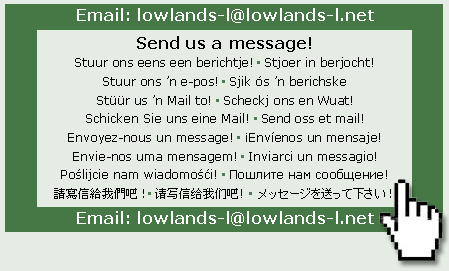 (We'll ignore messages that are anonymous and/or bogus.)
After processing, your message will appear in the line-up below. In the meantime please read what others have written so far.
---
Date: August 18, 2012
Guest: Douglas L. Swicegood
Location: Russellville, Arkansas, USA
Message: (English, Scots)
Happy Anniversary to Lowlands-L. I used to learn Scots from Sandy Fleming and Andy Eagle way back in 1998 and 1999. I had to give it up to take care of my parents. I used to have a really good time there but I was very naive and my Scots was very off! LOL! I guess I didn't do to badly for only having a year to learn!
Be cannie an Tak tint o' yersel.
Douglas L. Swicegood
---
Date: October 12, 2010
Guest: Jean L. Baker
Location: Les Cévennes (Las Cevenas), Occitania, France
Message: (French, Occitan)
Joyeux anniversaire, Lowlands-L,
bon aniversari, urous anniversàri e longo mais !
Quel bon travail, je vous salue tous !
—Jean
from the Cévennes mountains in France
---
Date: November 23, 2008
Guest: Kuridin Manurung
Location: Interlaken, Canton Bern, Switzerland
Message: (Batak)
Molo ni bege lagu batak misalna "unang ahu sai solsoli", massai lungun do roha mulak hu bonapasogi.
Alai alani dompet na tipis, jala kb alias keluarga besar (alana anakkon hi do hamoraon di ahu songon hata ni si jolo jolo tubu), jadi nitaon ma hisap nanaeng mulak.
K. Manurung
---
Date: July 3, 2008
Guest: Hans-Juergen Adams
Location: Wiesmoor, Lower Saxony, Germany
Message: (English)
Just would like to leave a note applauding your great work on the Lowlands languages!
Hope, you will continue.
Juergen

www.wiesmoor-info.de/
chronik.wiesmoor.de/
torf-und-siedlungsmuseum.de
---
Date: April 16, 2008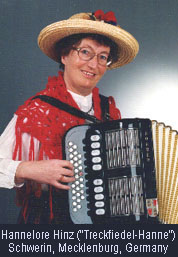 Guest: Hannelore Hinz
Location: Schwerin, Mecklenburg-Western Pomerania, Germany
Message: (Low Saxon)
Ick will giern grateliern tau dat grote Jubeläum.
13 Johr, un wenn' 1 + 3 tausamentellt, is dat mien Glückstall (wenn ein noch räken kann): de VIER.
Reinhard, wat Du in all' de Johren upbuugt hest, is ein DOM, is ein, woll de högst' Lüchttorm up de wiede Welt. Un sien Licht hett ok up mi wiest. Ick kam ut dat Wunnerwarken nich rut, wenn all' Dien Web-Sieden läsen un beögen dau.
Ick wüßt' keinen Minschen, de mit soväl Leiw' un Fliet ein "Lowlands" so as Du upbugen künn.
Un Du hest för alle Tieden mit ein klauk Vörut för ein lang' Läben von denn' groten Sprakenbom allns dahn un hest ümmer ein Hart för de Minschen.
Mien Hochachten un groten Dank
---
Date: May 9, 2007
Guest: Gaston Vonck
Location: Kansas City, Missouri, USA
Message: (Dutch)
Geachte heer,
Met deze ben ik blij julie terug te vinden, na mijn verhuis naar de states was het moeilijk om julie berichtjes and webside te lezen. Met deze wens ik julie een behouden vaart en gelukwensen en nog vele jaren.
---
Date: December 18, 2006
Guest: Smirna de Vries
Location: South Africa
Message: (Afrikaans)
Goeie dag,
Baie dankie, dit is vreeslik intressant en baie leersaam.
Julle doen voorwaar 'n groot werk!
Ek self is in Namibie gebore, my mense praat meestal Namakwalandse Afrikaans.
Smirna de Vries
Suid Afrika.
---
Date: December 14, 2006
Guest: Chris Kerkhoff
Location: Kuuk (Cuijk), Northern Brabant (the Netherlands)
Message: (English)
We wish you a merry christmas and all the good things in the rest of your life!

---
Date: January 9, 2006
Guest: Tom Crane
Location: Atlantic City, New Jersey (USA)
Message: (English)
Dear Lowland People,
Happy tenth anniversary.
Thanks for the job that Mike Szelog has done with the little story of the wren in the Faroese versions. Those guys in in western Vermont (west of the Green Mountains) speak a bit differently from people in the eastern part of the state going into New Hampshire. The stereotypical New Englander speaks like Mike has described, but western Vermonters sound less pronounced. Perhaps this is due to this area being a border area with New York. I never had any trouble with my Mid-Atlantic Standard English until I said 'water' (South Jersey English, 'wooder') and then I would be lambasted as a "flatlander".
Tom Crane
---
Date: July 28, 2005
Guest: Indiera Thiessen
Location: Asunción (Paraguay)
Message: (German)
Herzlichen Glückwunsch zum 10 years Lowlands-L und einen Lob für den Beitrag von Jonny Meibohm.
alles beste
indi
---
Date: June 23, 2005
Guest: Paulien Keim
Location: (Netherlands)
Message: (Dutch)
Hallo Hans,
Ik had natuurlijk ook 't Twents als eerste aan kunnen klikken, maar vond het heel leuk jouw naam bij de Zeeuwse variant tegen te komen!
Groeten,
Paulien Keim
---
Date: July 24, 2005
Guest: Marcel Bas
Location: Voorschoten (Netherlands)
Message: (Afrikaans)
Ron en ander mense; veels geluk met julle verjaarsdag!
Tien jare se deurtastende taalnavorsing en diskussies is 'n groot prestasie, en julle is die bobaas webwerf wat die eenheid tussen die Nederlandse tale en kulture wil benadruk. Baie dankie daarvoor.
Ek glo dat ek van die begin af (1996) al ingeteken was op die Lowlands-L, en ná dit was ek afwisselend lid en gewese lid. Ek moet sê dat dit altyd geweldig verrykend vir my was om my so te ontwikkel op die verskillende vlakke van taalbemeestering en kennis van taalkunde.
Ek sou graag weer op Lowlands-L ingeteken wou wees; ek sal jou later hieroor kontak.
Ek is baie beïndruk met die Gariep-Afrikaanse teks op jul webwerf van Elsie Zinsser. Dis sommer baie belangrik dat ons dié van die standaard-Afrikaans afwykende versies van Afrikaans in die kalklig plaas. Op my boekrakke het ek 'n versameling van Griekwapsalms, en as ek gelowig sou wees, sou ek vir julle nou hier 'n mooi gediggie of psalm in onvervalste Griekwa-Afrikaans gegee het.
Groetnis en al van die beste.
Marcel Bas, Nederland
---
Date: June 22, 2005
Guest: Henny Homan
Location: De Huizen, Overijssel (Netherlands)
Message: (English, Dutch)
Congratulations! What a fantastic site. Verrukkelijk, dat steeds andere zelfde verhaal.
Henny Homan, Huizen, Nederland
---
Date: May 4, 2005
Guest: Friedrich-Wilhelm Neumann
Location: Cuxhaven Area, Lower Saxony (Germany)
Message: (English, Northern Low Saxon)
Hi, Ron and others,
de aul' Spooßmooker is weller door!
Chottsverdoori — mi dücht, datt hefft Jii fein trechtekreegen.
Is 'n super Idee, dat mit dennen Sound door mit bii; schöllt anner Lüü (tau'n Biispeel de halfgoor'n WIKIPLATT-Schriivers) mol heur'n un' sick överleggen, wat se nich noch 'n poor Stünnen Noohelp nehmen dauht bii de Amerikooners :-)!
Frau Freudenthal is bannig gaud mit ehr Snackereei!
Mookt wieder sau!
Beste Grötens tau de aule Mannsschapp:
Fiete.
"Not Lucifer I fear, but those almighty Gods"
---
Date: May 3, 2005
Guest: Mark Williamson
Location: Phoenix, Arizona (USA)
Message: (Navajo, Okinawan, Ainu, O'Odham, English)
Yá'át'ééh lowlanders,
umari-bi:gusu:zhi un'nuki yabira!
Ta=anak ku=enupetne.
Do va ep em ñei.
Also, I was wondering why there is no Unicode version of the Gothic-script version of The Wren? I re-drafted it in Unicode, but I'm not sure what format I should send it in.
I also have some corrections to the Yiddish version, and I am curious why the Guarani translation doesn't use standard orthographical conventions.
Mark
---
Date: May 2, 2005


Guest: Arend Victorie (Introduction)
Location: Hoogeveen, Drenthe (The Netherlands)
Message: (Drenthe Low Saxon)
Moi Leeglaanders,
Wis en waorachtig, 't is een schiere webstee wörden.
Zöks is wel an Ron en zien maoten toevertrouwt.
De webstee zet der hemmel uut. Wurd vriendelijk anprissenteerd en op 'n veurraom zu'k zeggen, gao zo deur. Ik binne benèid, wanneer as der mien geluudsopnaome bij komp te staon.
Arend Victorie
---
Date: May 2, 2005


Guest: Ingmar Roerdinkholder (Introduction)
Location: Arnem, Gelderland (Netherlands)
Message: (Middelsprake, Drenthe Low Saxon, Dutch, English)
Ig föle mi lükkig to wese en deel af de LLList on to wete dat ig finde mi in good selskap! (MS)
Ik bin blide diil te waen van de LLList en te weten da'k in guud geselschop bin! (LS)
Ik ben blij om deel uit te maken van de LLList en te weten dat ik mij in goed gezelschap bevind! (NL)
I'm happy to be a part of the LLList and to know I find myself in good company! (E)
---
Date: April 26, 2005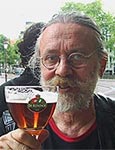 Guest: Antero Helasvuo (Introduction)
Location: Helsinki/Hälsingfors (Finland)
Message: (English)
The anniversary site is very nice. Congratulations! My time as a more or less active Lowlander has been very enriching professionally as well as personally. Thank you for your perseverance and especially for the friendly mood that you have created internationally. May the world come to resemble more this remarkable community.
Yours truly,
Antero
---
Date: April 19, 2005
Guest: Anthony Aristar, Linguist
Location: Detroit, Michigan (USA)
Web: http://linguistlist.org/aristar/
Message: (English)
Thanks for your kind words, Ron! It's been a pleasure hosting Lowlands-L.
All the best!
Anthony
---