'Amârñâ
Amharic ("Ethiopian", "Abyssinian")
---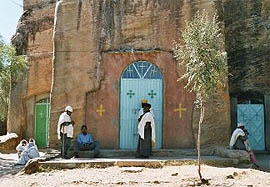 Predominantly Amharic-speaking Northern Ethiopia is
home to some of Christendom's most ancient
preserved sites.
Language information: Amharic (also known as "Abyssinian," "Ethiopian," "Amarinya," "Amarigna") is the official "working language" of Ethiopia, being the native language of most of the population in the country's northeastern parts. It is also used as the predominant native language among Tigrays (ethnic Eritreans) that were deported to Eritrea after that country's secession from Ethiopia. Also, a large percentage of Beta Israel (formerly known as "Falashas" or "Ethiopian Jews"), that originally spoke the Judeo-Ethiopic Qwara language or the Cushitic Kayla language, now uses Amharic as its first language and has introduced it to Israel. At this time, there are approximately 2.5 million Amharic-speaking people outside Ethiopia, primarily in Egypt, Sweden, Israel, North America and Australia.
Currently,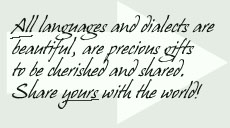 most Eritreans are proficient in Amharic as a second language, due to having been educated as Ethiopian citizens prior to Eritrean independence. Many Rastafarians learn Amharic as their sacred, supposedly ancestral language.
The majority of native Amharic speakers is Ethiopian Orthodox Christian and uses the ancient Ethiopic Ge'ez language for liturgical purposes, which, like Amharic, Tigrinya, Tigre and some other languages of the Horn of Africa, is written with the Ethiopic script, an alphasyllabary-type writing system that developed from the South Arabian script once used in Yemen and other parts of the Southern Arabic Peninsula.
Genealogy: Afro-Asiatic > Semitic > South > West > Ethiopic > South > Transverse > Amharic
---
Click to open the translation: [Ethiopic Script] [Western Script]

---
Author: Reinhard F. Hahn