Brabantish (Variety of Merchtem, Belgium)
---
Listen to this translation:
Translation and Narration: Luc Hellinckx
Location: Merchtem, 15 km northeast of Brussels, Belgium
Language information: [Click]

---

[Merchtem] [Antwerp] [Rosmalen]
[Standard]
---
't Köningske
E köningske zat mé ne nést in 't schuu. Op ne kieë wààrn d'aavers alle twieë wég mé da ze nääs goenke zuke vö ööle klajngkes; en dei wààrn dus grat allieën.

Nàà e poesjken és pajt veneir toës.

"Wat ést er ie gebeud?" zeitn …"Eit er iemand aaln iet ààgedàà, kinnern? Ge zè zoe krewéllig!"

"Och, vàder", zégge ze, "dàà és ie te zjust zoe ne groeëte löbbe gepasseed. En vies en benaalik dat er ij oëtzag! A keek me z'n groeët oeëge stèrlings in onzn nest. Dömee da me zoe mé de poepers zittn."

"Jawadde", zei pajt, "wàà éstn dèn naa nààtoe?"

"Awél", zégge ze, "a és longst dàà gegààn."

"Wach màà", zei vòòr, "'k Zèn er achter. Geduurd aaln ewa mannekes, 'k zal öm wél kraëge."

En a was wég.

Zjust de moment datn dàà aan dnoek afdròòt, vliegtn to ni boef op ne luuë, zeker.

Màà 't köningske és ni gaa vervääd zö. A kom nee op de luuë zönne rug en begint öm dàà drekt oët te màke.

"Wad érre gaa te zuken àà majn oës man?", zeitn, "En vöö wa jààgde gaa majn kinnere schrik ààn?"

De luuë trékt er öm niks van ààn en lup gewoeën döö.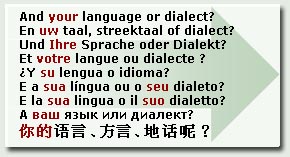 Màà dèn begint daa kröötn öm dàà nog naëger te stuëre. "G'hét dàà niks verloren zég ik aa! En as ge no ne ki teit trugkomme, zélde ne ki zien"… a loechtn zö poejke swajnst datn zaa "Dèn kraëgde ne föddel in a rug da ge ni loecht zél vergeetn."

Dörachter vloogn trug nàà zönn nést.

"Awél, kinnern", zaan, "Daann és getést … Daa kom ne mi weer zö."