Bălgarski
Bulgarian
---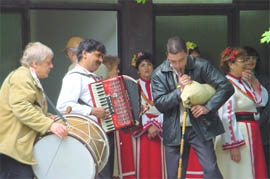 Bulgaria, where music, dance, food and language
are witnesses of millenia of mingling
Language info: Bulgarian is the primary language of Bulgaria, and it is used in other countries as well, such as in Turkey, Greece, Serbia and Montenegro, Moldova, Romania and Ukraine, overseas particularly in North America and Australia. It is the closest relative of Macedonian Slavonic and of Pomak (a minority language of Northern Greece).
While preserves many archaic Slavonic features (such as a suffixed definite article), Bulgarian has some innovative features as well, most of them due to non-Slavonic influences, such as influences from Gothic, Romanian, Greek and Turkic languages.
The closest relative of Bulgarian is Macedonian, which certain parties in Greece do not recognize for political reasons.
Genealogy: Indo-European > Slavonic > Southern > Eastern
---
Click to open the translation: [Click]

---
Author: Reinhard F. Hahn