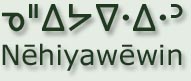 Cree
---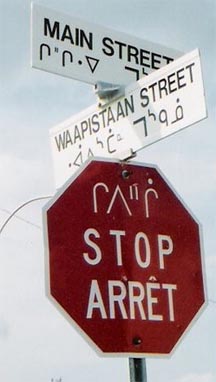 Cree (written with the Cree syllabary), English and French on signs in Canada's Quebec (Québéc) Province.
Language information: In terms of speaker number, geographic distribution and survival rate, Cree is one of today's most significant aboriginal American languages. The vast majority of Cree speakers lives in Canada, between the Pacific coast and areas in northeastern British Columbia. Only in Canada's Northwest Territories does Cree have official status, although it is home to a very small percentage of Cree speakers.
The Cree people constitute the largest First Nations population of Canada. In the United States of America, it is only in northern central Montana that Cree people are found, specifically speakers of Plains Cree who share Rocky Boy Indian Reservation as a part of the "Chippewa Cree Tribe."
The name "Cree" (which should not be confused with "Creek," i.e. Muscogee) is derived from Kiristino (> French Cristinaux), an Ojibwa word denoting a member of a band living south of James Bay. Cree people refer to themselves as Nēhiyaw, Nīhithaw, Nēhilaw, Nēhinaw, Ininiw, Ililiw, Iynu (Innu), or Iyyu, depending on their cultural allegiance, native area and dialect.
Cree is an Algonquian language, is thus related to languages such as Abenaki, Arapaho, Blackfoot, Cheyenne, Malecite–Passamaquoddy, Mi'kmaq, Ojibwe, Sauk–Fox–Kickapoo, and Shawnee. It consists of nine main dialect groups.
Features of the Cree language include complex polysynthetic morphological and syntactic structures, a common feature of aboriginal American languages. For example, there are suffixes that mark nouns by degree of proximity to the discourse. Lexical morphology can be highly complex in its descriptiveness; e.g., Plains Cree kiskinohamātowikamikw for 'school' literally translated is "knowing-it-together-by-example place."
Two script systems are used to write Cree. All varieties can be and are written by means of various Latin-script-based orthographies. In addition, there is the Cree syllable script which has two variants: Eastern Cree Syllabary, and Western Cree Syllabary. All letters of these two systems are contained within the general Canadian Aboriginal syllabary system.
There is in Canada much in the way of Cree language, literature and culture research, teaching and other activities, some of them at dedicated institutions, with a growing list of printed, recorded and electronic material being published.
The Cree language has contributed much to the developments of two North American contact languages: (1) the Cree- and French-based Michif language of the Métis people used throughout a larger region, mostly in Canada, and (2) the Insular-Scots-based Bungi creole spoken by the Red River Métis of Manitoba, Canada.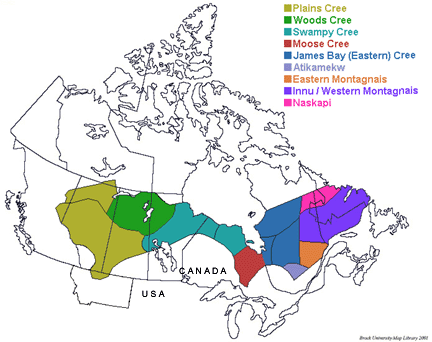 Genealogy: Algic > Algonquian > Cree
Historical Lowlands language contacts: English, Scots
---
Click to open the translation: [Southern Atikamekw Cree] [Southern Inland East Cree]

---
Author: Reinhard F. Hahn