Estonian
---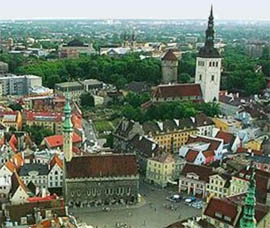 Once the important Hanseatic city of Reval (or Revel),
Estonia's capital Tallinn attracts much tourism in part
due to its historical Vanalinn ("Old Town") complete with
an intact city wall and (seen here behind the church)
a watch tower by the name of Kikindekök (from Low
Saxon
Kiek in de Kœk
"Peek into the kitchen").
Language Information: Estonian is used by approximately one million people, most of them living in Estonia. It is also used in some other countries, especially in Finland and Latvia as well as in overseas immigration countries
Estonian is a Finnic language that is fairly closely related to Võro, Finnish, Karelian, Meänkieli, Livonian, Ingrian, Ludic, Veps and Votic.
Finnic belongs to the Uralic family of languages to which also Hungarian and other Ugric languages as well as the Sami languages belong.
For centuries, Estonian was strongly influenced by other languages. The main types of loanwords are the following:
· Ancient Germanic (mostly shared with Finnish)
· Baltic
· Low Saxon (Middle Saxon to Modern)
· Scandinavian (mostly Swedish)
· German
· Russian
· English
Like ist close relative Finnish, Estonian retains ancient names for surrounding countries and peoples. For example, Sweden is know as Rootsi, the land of the Rus Viking élite that gave the Russians their name; and Germany is known as Saksamaa ("Saxon Land"), hailing back to the days when what is now Northern Germany was Saxony, the place from which Talinn (then Reval) was integrated into the Hanseatic Trading League's network.
Genealogy: Genealogy: Uralic > Finno-Ugric&nbsp> Finno-Cheremisic&nbsp> Finno-Mordvinic&nbsp> Finno-Sápme&nbsp> Balto-Finnic
Historical Lowlands language contacts: Low Saxon
---
---
Author: Reinhard F. Hahn