Elliniká (Hellêniká)
Greek
---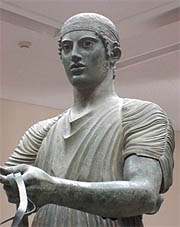 Greatly revered for centuries, Classical
Greek thinking, art, architecture and
language have strongly influenced
all of Western civilization.
Language information: Greek is the official language of Greece and one of the official languages of Cyprus. There are Greek-speaking communities in neighboring countries, throughout Europe and outside Eurasia, particularly large ones in Canada and Australia.
The history of Greek can be traced back about 3,500 years. These days, the main periods of the languages are accepted being as follows:
· Mycenaean (16th–11th centuries B.C.E.)
· Classical (Ancient) (9th–6th centuries B.C.E.)
· Hellenistic (Koine) (300 B.C.E. – 300 C.E.)
· Medieval (Byzantine) (330–1453 C.E.)
· Modern (1453–present C.E.)
New Testament Greek represents one of the lates stages of Hellenistic Greek.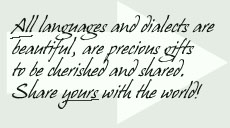 Modern Greek has numerous dialects. Traditionally, the colloquial Demotic varieties have been competing with the partly artificial "elevated" Katharevousa variety. However, today's Modern Standard Greek is based primarily on Demotic varieties.
Pre-Hellenistic varieties were tonal, the tones being indicated by means of diacritic marks. This "polytonic" orthographic system continued long after these tones had been lost. It was finally officially abandoned in 1982. Many Greeks still oppose this orthographic simplification and advocate official reinstatement of polytonic spelling.
This translation is in Modern Standard Greek.
Genealogy: Indo-European > Greek > Attic
---
Click to open the translation: [Click]

---
Author: Reinhard F. Hahn