Australian
---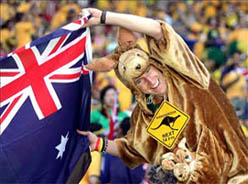 Australians are not afraid of being themselves,
and their brands of English show it.
Language information: Australian English initially developed from various dialects imported by British and Irish convicts and early settlers, with influences from aboriginal languages. Since then, influences from dialects and languages of later immigrants have been influencing Australian English.
Idiomatically and otherwise, Australian English is definitely different and colorful, and most of its speakers like it that way.
This translation is in Australian Ocker English, which is a casual, "slang" variety of Australia.
More about English: [Click]

Genealogy: Indo-European > Germanic > Western > Anglo-Scots > English
---
Click to open the translation: [Click]

---
Author: Reinhard F. Hahn