Canadian English, Waterloo, Southern Ontario Dialect
---
Listen to this translation narrated with native pronunciation:
Translation and Narration: Veronique Potier
Location: Waterloo, Ontario (Ganyadáiyo'), Canada
Another version in Southern Ontario English: [Click]

Language information: [Click]

---
The Wren
There once lived a wren that made its nest in a garage. One time, the father wren and mother wren flew out looking for something for their young to eat, and left them there all alone.
After a while, Father Wren returned home.
"What's going on here?" he asked. "Who got you all riled up like this, huh? You're all scared senseless!"
"Oh, dad," they said, "some big monster just came by. He was really awful and scary! He looked right into the nest with his big eyes and we got really scared!"
"Is that right?" Father Wren asked, "Where'd he go?"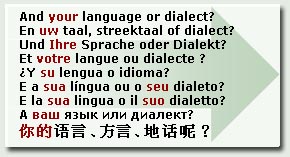 "Well." They said, "He went down over there somewhere."

"Hold on," Father Wren said, "I'm gonna go after him. Don't you kids worry about a thing. I'm gonna get him." And with that said he flew off after the monster.

When he came around the next corner, he saw a lion walking along.

But the wren wasn't afraid. He landed on the lion's back and started harassing him. "What business do you have coming to my house," he said, "and scaring my kids half to death, eh?! You've got some nerve."

The lion ignored him completely and kept going.

But now the wren was really ticked. "You have no business going there, you hear me? And if you dare set foot near my nest again," he said, "you'll be sorry! I don't really wanna do it," he said while lifting one of his legs, "but I'll break your back with my leg in a flash if you make me!"

And with that he flew back to the nest.

"There you go, kids," he said, "I've shown that old lion who's boss now. It's not likely we'll se much of him anymore, eh?"