Riddleyspeak
---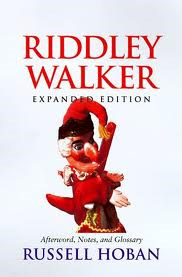 Language information: Riddley Walker is a post-apocalyptic book by Russell Hoban, set in Kent, England, somewhat over a thousand years in the future where civilization has reverted to an Iron-Age culture and where the few literate people desperately try to recover ancient technological wisdom from garbled texts and legends.
The dialect in the book is somewhat related to Kentish dialect, with a mixture of technical and legal terms that the people in the book use as part of their vernacular without being aware of their origins (program > progam = decide, plan; datter > data; blip = a significant occurrence, pronounce judgement > pour the ounts of judgd men).
Riddley, taught to read and write by his father, puts his words down as best as he can, apparently unaware of the use of commas other than for speech separators. Some words are always capitalised, as if they held some particular cultural significance (trouble > Trubba, Bad Luck; Plomercy < diplomacy, now with a connotation of "mercy"). Some phrases are hard to recognise without a lot of context: sharna pax and get a poal < sharpen the axe and get a pole (to stick the victim's head on); evacuated > vackt your wayt > he vackt his wayt.
Click here to read more about Riddley Walker.
Genealogy: Indo-European > Germanic > Western > Anglo-Scots > English > Constructed
---
Click to open the translation: [Click]

---
Author: Sandy Fleming