Western American
---
Listen to this translation narrated with native pronunciation:
Translation and Narration: Ben J. Bloomgren
Location: Scottsdale (Vaşai S-vaşonĭ), Arizona, USA
Language information: [Click]

---

[Version 1]
[Version 2]
---
The Cactus Wren
So there were these cactus wrens that put their nest up in a parking garage. One day, the mom and the dad had to go get some food for the kids.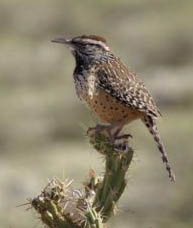 Cactus Wren

(

Campylorhynchus brunneicapillus

)


The dad comes back after a while and sees the kids with the crap scared out of them.

Whoa, whoa! What the mother happened here? You guys look scared out of your whits!

Uh ... Oh, my god, Dad! This big monster came by. He put his head right up into the nest with these enormous eyes! He scared us worse than that human with the stick!

Ahright, the dad says, aal find him and beat the livin' crap out uvvim.

The dad races out of the nest and flies out onto the campus. He turns a corner, and he sees this huge hound dog walkin' along Rural Road. He sits up on the dog's back.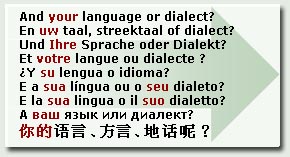 So. What right do you have comin' uppta my nest and scarin' my kids half to death? If you ever ...! Ever ...! Come near my place again, you will not live to see another day.

The dog didn't give a lick about the little bird on his back, and he kept walkin' towards Safeway.

This just pissed this little loudmouth birdie off somethin' fierce!

Hey! Look, Dude! I don't wanna hafta do it. He lifts his leg. I'll smash your vertebra with one stamp uh my feet! The dad leaves the dog and goes back to the nest.

It's ahright guys. He won't be sneakin' around here anymore.