---
Listen to this translation:
Translation and Narration: David Parke
Location: Auckland (Tāmaki-makau-rau), North Island (Te Ika ā Māui), New Zealand (Aotearoa)
Language information: [Click]

---
Đe Heggkuning
Đe heggkuningfugel hadd bauwd sîn nest in ein garage. Đær wond hi bî sîn familli. Eins wære đe elderen beiđ autflogen om ferwerve đe junglingen foud ond đei hadde ferlæten đe jung fugelen allein.
Ein luttel tîd later kam wiđer đe fader heim.
"Hwat hav passerd her?" fragd hi. "Hwei hadd dan einhwat to jyw, junglingen? Ji seje aut werklik bang."
"Ach, Fader," seggde đei, "Her kam forbî ein sulk grœt monster. Hi saj aut sou gemein ond schrecklik! Hi stard in user nest mid sîn grœt œgen. Đærfur ære wi sou bang!"
"Ik ferstæ", seggd đe fader. "Hwærtou hav hi gan?"
"Nu," seggde đei, "hi ging đat weg."
"Blîv her," seggd đe fader, "Ik gæ after him. Sorg nejt junglingen. Ik jag him ond gev him heftig tucht." Đann flœg hi after đe monster
Als kam đe heggkuning om ein egg, ging đær ein leon. Đe heggkuning was nejt đœch bang. Hi landed sick up đe rugg fon đe leon ond begann hi tou roupe. "Hwat mein đu, om komme bî mîn nest," seggd hi, "ond om make mîn junglingen sou seir bang?!"
Đe leon merkt nejt him đœch ond ging ferrer forđ sîn weg.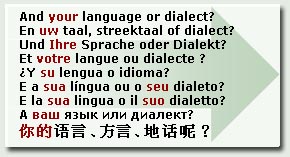 Đat makt đe heggkuning noug wreiđiger ond hi roupt seir laud, "Đu hav in mîn nest nein sak om tou komme. Of komm đu forbî wiđer", seggd hi, "đann schall đu smerte werklik. Ik will nejt werđe gewaldsam", seggd hi ond hi houv up ein fon sîn luttel beinen, "đœch mid đies bein kann ik breke đîn rugg!"

Đærafter flœg hi wiđer tou sîn nest.

"Sou junglingen," seggd hi, "him hav ik leird ein underwîsing. Hi schall komme nejt meir wiđer."