French
---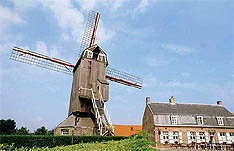 French Flanders (here Boeschèpe), where
French met Flemish and won
Language information: French is the official language of France, parts of Belgium (Wallonia), Switzerland, throughout Canada (mostly in Quebec), in the American state of Louisiana, in French Guyana, in Haiti, Mauritius, throughout French Polynesia and in other places. It is also used in large parts of Africa, as a result of French and Belgian colonization.
In terms of speaker numbers, French follows Spanish and Portuguese among the Romance languages.
Up until the early 20th century, French used to be considered the most important Western language next to English, and it used to be the lingua franca of global postal and diplomatic services.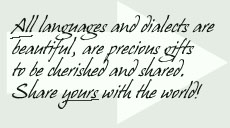 In France it overshadows all other languages because it is constitutionally enshrined as the only language of the republic. Phonologically, French is perhaps the farthest removed from ancestral Latin, probably due to Celtic and Germanic substrates and influences.
While English, Dutch and German have long histories of direct contacts with the French language, Low Saxon (Low German) had a brief period of direct contact late, namely during French occupation of the Netherlands and Northern Germany in the early 19th century. Some encounters between the two languages are described in Fritz Reuter's book Ut de Franzosentid.
Genealogy: Indo-European > Romance > Italo-Western > Western > Gallo-Iberian > Gallo-Romance > Gallo-Rhaetian > Oïl > French
Historical Lowlands language contacts: English, Flemish, Limburgish, Low Saxon, Scots
---
Click to open the translation: [Click]

---
Author: Reinhard F. Hahn