Cornish
---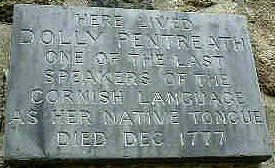 Dolly Pentreath's memorial plaque—in English rather than
in Cornish ...
Language information: Cornish is the pre-English language of Cornwall. Being a Brythonic Celtic language, it is closely related to Welsh (Wales), Breton (France) and the now extinct languages Cumbrian (or Cumbric) of England's Cumbria and Scotland's Southern Lowlands and Gaulish of France.
Cornish is more distantly related to the Goidelic Celtic languages Manx, Irish Gaelic, Scottish Gaelic and Shelta. Cornish continued to function as a community language until the late 18th century (Dolly Pentreath of Mousehole who died in 1777). However, native speakers were still located in the late 19th century. The last native speaker, Alison Treganning, died in 1906.
Cornish came to be revived in the early 20th century. Currently approximately 3,500 people speak, read and write basic Cornish, and approximately 500 speak and write it fluently at higher levels of proficiency. Furthermore, lately there have been reports about some children for whom revived Cornish is the first language.
Genealogy: Indo-European > Celtic > Insular > Brythonic
Historical Lowlands language contacts: English
---
Click to open the translation: [Click]

---
Author: Reinhard F. Hahn