Mennonite Low Saxon
Dialect of Khortitza ("Old Colony")
---
Listen to this translation narrated with native pronunciation:
Translation and Narration: Jack Driedger, Blumenheim, Saskatchewan (Canada)
Location: Khortiza Colony (Ukraine), now in many parts of the world, mostly in the Americas
Language Information: [Click here]

---
De Tünkjenikj
Dee Tünkjenikj haft sien Nast en dee Koaschend jehaut. Nü wearen dee Ellren emol beid fomm Nast rütjefläagen. See hauden fe äare Junge waut toom äten holen wullt – onn soo hauden se dee Junge gaunss auleen em Nast jeloten.

No eene Tietlang kjemmt dee Oola wada nohüss.

"Waut ess hia passeat?" frajt hee, "Wea haft jü Schod jedonen, Kjinja? Jie sent je gaunss feängst!"

"Och, Foda," sajt se, "hia kjeem soon groota Beesa febie. Däm sachet soo schrakjlich onn so fetallijch rietent üt. Dee glotst met siene groote Üagen enn onsst Nast enenn. Doaderjch hab wie onss soo jegrült."

"Soo," sajt dee Oola, "wua ess hee dann nü han jegonen?"

"Jo," sajt de Junge, "hee ess doa unjen felängst jegonen."

"Wacht," sajt dee Oola, "däm go ekj hinjaraun. Bliewt mau blooss rüij, Kjinja. Däm woa ekj kjrieen."

Doamet flijt hee däm Beesa hinjaraun.

Auss hee romm dee Akj kjemmt, doa ess dee Leiw, dee doa felänjst jeit.

De Tünkjenekj haft kjeene Angst. Hee sat sikj opp'em Leiw sien Rigjen onn fangt aun to schempen. "Waut hast dü bie mien Hüss too doonen," sajt hee, "onn miene Kjinja to fefearen?"

Dee Leiw kjemmat sijch goanichj doaromm onn jeit sien Wajch rüijch wieda.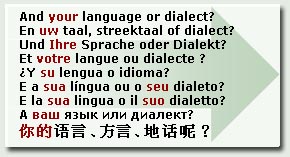 Dann schempt dee kjliena Stiakopp noch fuchtja! "Dü hasst bie mien Hüss nuscht feloaren, well ekj die sajen! Wann dü nochemol kjemst," sajt hee, "dan woascht dü seenen! Ekj doo daut nijch jearen," sajt he, onn doamet häwt he enn Been hüach, "sesst fekjwatsch ekj die foats dien Rigjen!"

Doaropp flijt he wada trigj no sien Nast.

"Soo, Kjina," sajt hee, "däm hab ekj waut jeleat; dee kjemmt nich wada!"