Hangukmal ∙ Joseonmal
(Hankuk-mal ∙ Chosŏn-mal)
Korean
---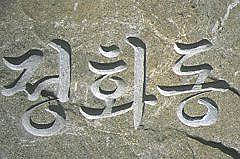 Although it is an alphabet, the Korean script draws
from the ideographic Chinese script with regard to
letter arrangement and calligraphic esthetics. Each
of these three blocks contains three letters:
s-ŏ-ŋ
h-u-i d-o-ŋ
(or
Seong Hwidong
in new
romanization).
Language information: Korean is the first language of most ethnic Koreans, many of which live outside Korea, such as in China (where they are an official ethnic minority), Japan, Central Asia, North America, Australia, New Zealand, among many others.
In 1446, a Korean-specific script was developed under King Sejong the Great of Joseon (1397–1450). This is an alphabet in which sound symbols (jamo) are grouped in syllable portions. Known as Hangul (Hangeul) in South Korea and as Chosŏn'gŭl (Choseon'geul) in North Korea, this script used to be written mixed with Chinese characters. However, this practice has been waning and has been officially discontinued altogether in North Korea.
Some linguists consider Korean a language isolate while others consider it an Altaic language.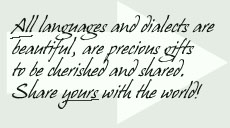 If it is not actually an Altaic language it, like Japanese, may be related to the Altaic languages on a pre-Altaic level.
Korean renderings of Chinese words provide valuable information about Chinese dialects in earlier times. For example, the Korean textbook Nogeoldae (Lăoqĭdà in Modern Mandarin) sought to teach Korean travelers of the 14th century Hàn'ér, a colloquial Dàdū (Bejing) Mandarin variety with some non-Chinese, mostly Altaic, influence. The dialogues were written with Chinese characters accompanied by their pronunciation in the Korean script. This has been a rich source of information about Old Mandarin pronunciation.
Genealogy: (Altaic >) Korean
Historical Lowlands language contacts: English
---
Click to open the translation: [Click]

---
Author: Reinhard F. Hahn