Lanky (Lancastrian)
Dialect once spoken in and around Preston, Lancashire, England
---
Listen?

Translator: John Duckworth
Location: Greater Manchester, England (United Kingdom)
Language information: [Click]

---
---
T' Wren
Wunce ther' wer' a wren as had 'is nest in t' car shed, well it so 'appened as wun day t' father an' t' muther 'ad flooan out to get summat or other for t' young 'uns to eight, leavin' t' babbies alooan.
A bit later t' father wren cum whoam agin.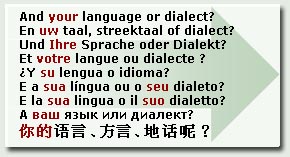 "What's up 'ere?" 'e sez. "Who's bin moyderin ya, childer? Ya owe luke frittened!"

"Oh, Dad," thi sez, "some big boggart's just bin 'ere. 'E luked so fierce an' 'orrible! 'E stared into wer nest wee 'is big een. That gee us a reet freet!"

"Ah see," Father Wren sez, "where's 'e gone neauw?"

"Well, dad," thi sez, "'e went deauwn theer."

"Wait!" Father Wren sez, "Aw'll be after 'im. Neauw don't fret yesels, childer. Aw'll get 'im." Reet away 'e flies after 'im.

When 'e cums reawnd t' bend, it's t' lion as is walking theer.

But t' wrens not frittened. 'E lands on t' lion's back an' starts to give 'im what for. "What business 'ave tha cumin' to me 'eawse," 'e sez, "and puttin' th' wind up me childer?!"

T' lion pays 'im no 'eed an' carries on walkin'.

That makes t' little bugger berate him even more fiercely. "Tha's no business being theer, Aw say! An' if tha cums back," 'e sez, "well, then tha'll larn! It's not as Aw want to do it," 'e sez an' at t' end 'e lifts wun of 'is legs, "bur Aw'd break tha back wee this leg o' mine in a second!"

Then 'e flies back to t' nest.

"Sithee, childer," 'e sez, "Aw've taught yon lion a lesson. 'E won't be cummin' back."