Limburgish,
Lonerland Dialect of Vliermaal (Belgium)
---
Listen to this translation narrated with native pronunciation:
Translation and Narration: Roger Thijs
Location: Vliermaal, Limburg (Belgium)
Transliteration: Reinhard F. Hahn
Language information: [Click]

---

[Dutch Spelling
] [German Spelling]
---
Het Wénterköninkske
Het Wìnterköninkske ha sìnne Näis inne Kärreschaul. De ah Köninkskes woare enne choäie Kehr oëtcheflüëche – se wöille Füier sücke vör hün Jööng – en se honne doabä hün Jööng häilechans alläin in Perdel cheloate.
Nüë a Türke kümp het Voier Köninkske thos.
"Wah's hä onne Haand?" sät er, "Wië hät üch iet chedöön, Kìnger? Dschie sit allemol häilechans türelüt!"
"Ho, Pa," seche se, "doë köim hä dschüs ìnne buëse Mann döör, en dië sööch sou schrickelek kuëd en bänkelek uët. Hië köök bä sen chroute Ooche in osse Näis, en vië hebbe allemol ene chroute Schrick chepack."
"Well, well!" säi de Voier, "Bou ìst er bleve?"
"Doë est er hìnne chechohn," säine se.
"Dat er waach," säi de Voier, "Ich chohn ater hem on. Kusch, kusch, Kìnger! Ich sall hem well kräche." En hië flööch ter ater on.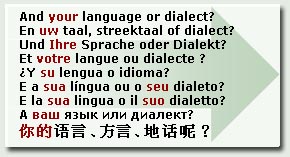 Wa siet er, at er de Huuk öömchedrät kümp? Lüpp mich duë en Lüëf!

Mär het Köninkske ìs nìj bang. Hië sett hem op de Lüëf senne Strank en hië bechinnt techen hem te pastiëre: "Wa hät dschië bä mich toës te sücke," sett er, "en men Kìnger bang te moake?"

De Lüëf trick hem doë niks van on, en hië lüpp döör.

Dan bechinn het kläin Vöchelke noch fäller te kiëke: "Dschië hät duë niks te sücke, sech ich! En ah dschië noch ìns trööchkomp," sett et, "dan choh ens ìit mätmoake." "Ich don da nìj chjan," sett et, en het liech terbä äin Pout op, "mer dann stamp ich uch ure Rööchstrank över."

En duënuë fliecht er trööch nuë sìnne Näis.

"So, Kìnger", set er, "dië hööb ich da oafcheliërt. Dië kümp nìj mäi trööch."