Livonian
---
Listen?

Translation: Alejandro Warbola
Location: Morgantown, West Virginia, USA
Language information: [Click]

Hääldus:
õ = [ɨ], õõ = [ɨː]
ŏ = [ʊ], ŏŏ = [ʊː]
Important Note: This is not an official way of spelling Livonian. It is merely meant to be a demonstration of what Livonian spelling might have been like had it been based on Estonian rather than on Latvian spelling. Please click here to see the text in the official Livonian orthography.
---
Čilčal
Čilčalõn vŏlj piezaa auto taljsõ. Ikškõrd liindiztõ čilčal vanbist ulzõ, ku vŏčõ piškiztõn mideegõst siiedõ. Puuogad eitõ bet täudlistiz ikšigginj.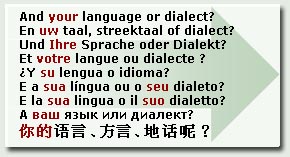 Lekš rooz aigõ, až izaa čilčal kuodaaj taagiž joodiz.

"Mis täs suggõn um?" ta kiziiz. "Kis täddõn vigaa tiiend um? Teeg uuotõ tikkiž jaraa ädaagõnd palgõdõks!"

"Ak, izaa," jeengiztõ läälamstiz puuogad, "mingi suur iirmatõks kei just täs. Ta neiz nei irmõz ja äbknaš ulzõ! Ta vanjtljiz enjč suurd siilmadõks mäd piezzõ. Se irmtiz meedji väggi jaraa!"

"Ak, nei!" izaa čilčal kiziiz, "Ja kus puuolõ ta lekš?"

"Ta lekš alaa siedaa riekkõ pids." vastaatiztõ puuogad.

"Vŏdlõgid, lapst!" kiitiz izaa čilčal. "Ma lääb tämmõn pierrõ. Algid täd lapst ni murtõgid. Kil ma ta käddõ soob!"

Pierroo siedaa liindiz ta iirmatõks pierrõ. Až ta riek kiierõks päälõ joodiz vŏlj sääl louv kis sääl jeddõpeedjõn kei.

Bet čilčal iz kartõn. Ta liindiz louv säälga päälõ ja iirgiz riidjljõm. "Mis ažžõ vŏlj sinnõn min kuodaaj läädõ," kiitõb ta, "ja min pŏigdji irmtõ?!"

Louv nemee iz pand siedaa täädõl ja kenžliiz jeddõpeedjõn.

Pierroo siedaa iirgiz čilčal vel jemiinj suoimõm. "Sinnõn äb vŏnnõd siinjõ mittõ mingizt ažžõ, ma kiitõb sinnõn! Ja až sinnõn um toomi vel taagiž tuulda, siz kil ma sinnõn nägtjõb" ap-nutiiz čilčal. "Ma äb tooji siedaa kil tiiedõ," kiitõb čilčal ja nustaab enjč iid jaalginj ilzõ, "bet ma võiks siilmapilksõ murdõ sin säälga!" Pierroo siedaa liindiz ta taagiž enjč piezzõ.

"Näätõ puuogad," kiitõb ta, "Ma aandiz tämmõn jõvaa opaatõks. Ta jubaa taagiž äb tul!"