Mennonite Low Saxon
Dialect of Molochna
---
Listen to this translation narrated with native pronunciation:
Translator & Narrator: Reuben Epp, Kelowna, British Columbia (Canada)
Location: Molochna Colony (Ukraine), now in many parts of the world, mostly in the Americas
Language Information: [Click]

---
De Tuunkjeenig
De Tuunkjeenig haud sien Nast en de Woageschend jebuut. Nu send de Oole mol beid utjefloage – se haude fe' äahre Junge Fooda hole wullt – un habe de Kjleene gaunz auleen jelote. Om 'ne Tietlang kjemmt de Oola wada noh Huus.

"Waut's hia passeat?" saigt he. "Wäa haft ju waut jedone, Kjinja? Ji send je gaunz veängst."

"Ach, Voda," saije se, "hia kaum afens soon groota Beestkjeadel vebi, dee sag so doll un grulig ut. Dee gluupt met siene groote Uage en ons Nast 'enenn. Doawäajen hab wi ons soo sea vefeaht."

"Soo," saigt de Oola, "wua es he dan jebläwe?"

"Jo," saije se, "he es doa heromma jegohne."

"Wacht mau," saigt de Oola, "Däm goh ekj noh – bliewt mau stell, Kjinja – däm woa ekj kjriee."

Doamet fliggt he ahm noh.

Aus he om de Aikj kjemmt, es daut de Leewe dee doa jeiht.

De Tuunkjeenig haft oba nich Schis. He sat sikj opp'em Leewe sien Rigje un fangt aun to schelle. "Waut hast du bi mien Huus to doone," saigt he, "un miene kjleene Kjinja vegrule!"

De Leewe kjeaht sikj goanich doanoh un jeiht sien Gang.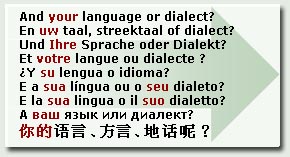 Donn woat he noch dolla schempe, de kjleene Kjräätsack. "Du hast doa goanuscht veloare, well ekj di saije. Un kjemmst du doa wada," saigt he, "dan woascht mol seehne! Ekj mag et leewa nich doone – un doamet häwt he sien Been een Enj aun – sesst klunj ekj di fuats dien Rigje en!"

Doamet fliggt he wada trigj han noh sien Nast.

"Soo, Kjinja," saigt he, "däm hab ekj daut aufjeleaht, dee kjemmt nich wada." –