Münsterland Low Saxon
---
Listen to this translation narrated with native pronunciation:
Translator and Narrator: Heinrich Becker
Location: Steinfurt, Lower Saxony (Germany)
Transliteration: Reinhard F. Hahn
Language information: This dialect is transitional between North Saxon, Eastphalian and Westphalian. [Click here for more.]
---

[German Spelling]
[Dutch Spelling]
---
De toenkuöning
De toenkuöning har zien nest in eene olle remize. Noe wassen de ollen eenmaol oetvluoggen. Ze wóllen wat to iëten halen vuar uör nolaot ón hebt de klaainen alleen zitten laoten.
Biëtken later kam de olle wier nao hoes.
"Wat was hier dan los?" vrögt he, "hebt wie joe wat daon, kinner? Ie zin ja gaans móksj!"
"Ach, Varer," entgieggenten ze, "hier kam een grauwten bótkiërl veurbie. De zeug zo bedraaigend ón greulik oet. Met ziene grauwten auwgen hef he in ósse nest kiëkken. Wie hebt oes daorveur zo baang maakt."
"So," zeg de olle, "waor is he dan bliëbben?"
"Jo," zegden ze, "daor is he laangs gaon."
"Wocht aes!" zegt de olle, "ik zal em woeël kriegen!" ón daor vlög he em nao.
As he um den hook kump, zut he eenen leuwen, de daor lans gaait.
Den toenkuöning was aober nich baang. He zett zik óp den ruggen van den leuwen ón vaeng aan to sjnerken. "Wat haes doe bie mien hoes te zeuken?" vrög he, "ón miene klaainen kinner baang te maken!?"
De leuwe kummert zik 'nen driët dorum ón gaait zienen weg.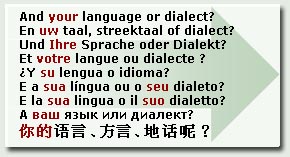 Noe vöng he eerst richtig aan to sjnerken, de drieste klaaine kiërl. "Daor haes doe niks velorn, zeg ik die! Ón wen doe terug kumst," zegt he, "kanst doe wat beliërben! Ik wil 't ja egentlik nich daon," ón beurt al een been in de heugde, "sus daai ik dienen ruggen kaput trampeln!"

Daoróp hen vlög he wier terug nao zien nest.

"So, kinners," zegt he, "ik heb 't em oetdriëbben. De kump nich meer terug."