Mennonite Low Saxon, "Russian" Dialect
---
Listen?

Translator: Heinrich Dück (Germany)
Location: Former Soviet Union, now also in various parts of the world, mostly in Germany
Language Information: [Click]

---
Dee Tüntjeenich (Dee Tünkrüpa)
Dee Tüntjeenich haud sien Nast enne Woageschien jebüt. Nü send dee Oole moul beid ütjefloage. See wulle fe eare Junge Foda houle in leete dean gaunz auleen.

Om eene Tiet tjemt dee Oola wada nou Hüs.

"Waut es jeworde?", sajt hee, "Wea haft junt beleidicht, Tjinja? Jie send je gaunz enjischichtat".

"Ach, Vouda", saje see, "hia we jroutz een groota Beesewicht. Dee sach so doll in schratjlch ütt! Dee glotzt met siene groote Ouge enn ons Nast nenn. Doa weajen send wie so veschrocke".

"So", sead dee Oola, "Wo es dee nü jebleawe?"

"Jou", saje see, "dee es doa velenjd jegoune".

"Wacht mau!", sajt dee Oola. "Deam koum etj nou. Berüicht junt, Tjinja! Deam woa etj tjriee." Doamet flichta uck doahan.

Aus hee roome Atj tjemt, es daut dee Leewe, dee siene Stratj jeit.

Dee Tüntjeenich haft ouba nich schis. Hee sat sich bie'm Leewe oppem Ridje in fangt aun tou schelle. "Waut hast dü bie mienem Hüs tou seatje?", sajt hee, "In veschratjst miene tjliene Tjinja!"

Dee Leewe moakt nuscht om sich in jeit sienen Wajch wieda.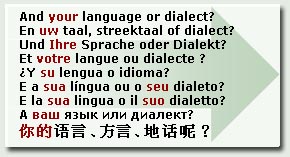 Dan schindeat hee noch oaja, dee tjliene Tjerl. "Nuscht hast dü doa veloare saj etj tou die. In tjemst dü wada", sajt hee, "dan woascht dü mau seene! Etj mucht daut äjentlich nich doone", sajt hee in heaft dan schließlich een Been aun, "sonst veklunj etj die deam Ridje!".

Doarop flicht hee wada nou sienem Nast tridj.

"So, Tjinja,", sajt hee, "deam hab etj wajchjejoacht. Dee tjemt nich mea tridj".