Portuguese
---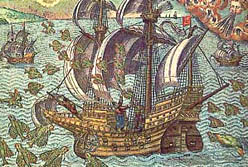 As a result of early Portuguese maritime exploration,
the Portuguese language was foremost among
European languages to be adopted outside Europe.
Language information: In terms of speaker numbers, Portuguese is currently the second largest Romance language after Spanish (Castilian) and before French. Its original territory is Portugal, and it is now used in numerous countries that used to be Portguguese colonies, foremost in Brasil (now the country with by far the largest number of Portuguese speakers), also in Angola, Mozambique, Cape Verde Islands, São Tomé e Príncipe, Eastern Timor and Macao. There are also numerous Portuguese speakers in countries neighboring Brazil, in Australia, South Africa, Namibia, India, North America and various European countries.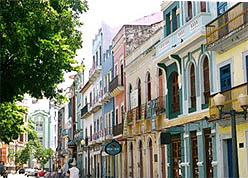 In the Old Town of Recife, Pernambuco, Brazil,
Portuguese-style additions and coats of paint thinly
disguise early Dutch architecture.
Portuguese is the closest relative of Galician, belonging with it to the same language branch, though some claim that these two constitute a single language. There are considerable differences especially between European and Brasilian Portuguese, but mutual comprehension problems are minor due to joined standardization efforts and media sharing.
With currently close to 190 million inhabitants, the largest Portuguese-speaking nation nowadays is Brazil. In 1630, after years of activities by the Dutch East India Company, mostly related to sugar production, several parts of Brazil's north came under Dutch rule under the name "New Holland" (Nieuw Holland). This occupation lasted little more than two decades, but one-time Dutch presence in Northern Brazil is still evident in things like period architecture.
Genealogy: Indo-European >Italic > Romance > Italo-Western > Western > Gallo-Iberian > Ibero-Romance > West Iberian > Portuguese-Galician
Historical Lowlands language contacts: Dutch, Irish English
---
Click to open the translations: [Portuguese of Portugal] [Portuguese of Brazil]

---
Author: Reinhard F. Hahn