Qollasuyu (Bolivian) Quechua
---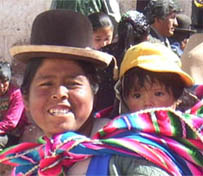 Bolivia is one of the countries in which
Quechua is widely used and has some
monoglot speakers.
Language info: Quechua is used in several South American countries. It is the indigenous language of numerous communities throughout a large area in the Andes Mountains. It has numerous dialects and dialect groups.
With about eight million speakers, Quechua is the most widely used Native American language, and of this speaker population about one third has no or little command of Spanish (Castilian), the European language that overshadows all indigenous languages of the Andean region.
This translation is in a dialect of Bolivia, an area the indigenous movement calls Qollasuyu.
Genealogy: Quechuan > Huampuy (Quechua II) > Southern > Chinchay (Quechua IIB-C)
---
Click to open the translation: [Click]

---
Author: Reinhard F. Hahn