Rhaetic (Rhaeto-Roman)
---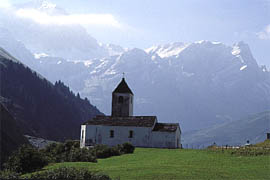 Switzerland's Canton Grischun (Graubünden)—one of
the places at which Latin-speaking enclaves survive
Language information: Rhaeto-Roman or Rhaetian (whose native name is spelled Rumantsch, Romansh, Romansch or Romanche) is used in border regions of Switzerland, Austria and Italy. Due to having developed in numerous relatively isolated Alpine valleys, it has several very distinct varieties that may well be considered separate languages. Rhaeto-Roman is closely related to both Friulian and Ladin (used mostly in Alpine Italy) but is a considered a separate language. The differences tend to be so great that mutual comprehension is difficult, and speakers of different "dialects" usually resort to German to communicate with each other.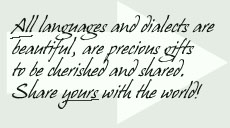 In 1982, the Zürich-based linguist Heinrich Schmid created a generalized variety based mainly on the dialect of Grischun/Grigione/Grissons/Graubünden. Known as Rumantsch Grischun, this variety has been generally well-received and is well on its way of becoming the Rhaeto-Roman standard dialect, being used in most of the media now.
Rhaeto-Roman is a Romance language on Celtic substrates and with mainly Swiss German influences. Although it is used by relatively few people and keeps losing speakers mostly to Swiss German, it is recognized as an official language of Switzerland, along with Italian, French and German.
Genealogy: Indo-European > Italic > Romance > Italo-Western > Gallo-Iberian > Gallo-Romance > Gallo-Rhaetian > Rhaetian
---
---
Author: Reinhard F. Hahn