Dialect of Dore, Northern England,
at the border of South Yorkshire and Derbyshire
---
Listen to this translation narrated with native pronunciation:
Translation and Narration: David Singleton
Location: Luxembourg, originally from a village near Sheffield, England
Language information: [Click]
Genealogy: Indo-European > Germanic > Western > Anglo-Scots > English
---
't Ren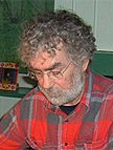 Fo'er ah wuz a bairn, 't Ren fam'leh 'ad e nest int' owd baarn. Wun dae t' Mam an' Pap wuz owt gerrin' summat t' eet leevin' young 'uns on ther jackseys.
Afftr' a weil t' Pap Ren kum bak ho'em.
"Wotzup wi' thee?" hi axd, "tha' lucks liehk tha's sin a ghost."
"Bloodi 'ell, Pap," kids sez "Theyr wuz e greet big skairy fing 'ere jus' nah. It wer' reel fierce an' 'orrid. 'E stair'd in t'us nest wi' 'iz grate big aïz. Wi' wuz shit skaerd."
"'Ah'm nor' 'avvin tha'" sez Pap Ren, "'Ah'm goin' afftr 'im. Daunt thee wurri thisens." An wi' tha' off 'e wen' afftr 'im.
Wenn 'e wen' rahnd t' bend theyr wuz e lie'en warkin' elong.
Bu 't Ren wurn't skaird. Hi landz ont' lie'enz bak an' startz giein' 'im wotfor. "Wotz job. Kummin' rahnd maï 'ous' an' skairrin' mi kids 'arf outa theyr skins?" hi shahts.
T' lie'en didn' bat 'n ailed. 'E juss kep warkin.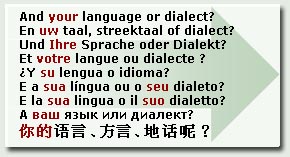 This maekes 't lit'tl loud mouff even moer cokky. "Yuv got nee biznis be'in' theyr, 'ahm tellin' yer. 'Ah dohn't reely want ter 'after du'it," 'e sez, liftin' 'iz leg, "Burr'ah kud brake ye bak wi' won stamp!"

'An wi' tha' 'e flu bak t' 'iz nest.

"Theyr ye' go kids," 'e sez, "tha'z tawld 'im. 'E'll no' bi bak ter bovver us agin."