Serbo-Croatian (Bosnian/Croatian/Serbian)
---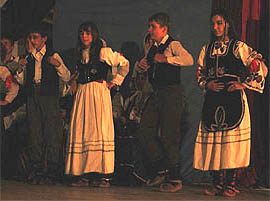 With their irregular rhythms, intricate footwork and
haunting tunes with Eastern echoes, traditional Serbian
music and dance have many admirers around the world.
Language info: Serbo-Croatian (or Bosnian/Croatian/Serbian) is a collective name of three South Slavic dialect groups that since the disintegration of Yugoslavia have been given separate language status as Bosnian, Croatian and Serbian. Differences between them are, however, dialectical. They are lexical as well, because Bosnian is most used by Muslims (and uses particularly many Turkish and Arabic loanwords), Croatian by Roman-Catholics (and uses particularly many Latin and Italian loanwords), and Serbian by followers of Eastern Orthodoxy (and uses man Greek loanwords). Although linguistically justifiable, referring to the three as dialect groups is controversial for political reasons. Some people present Montenegrin as an additional language.
Bosnian is used by non-Serbian and non-Croatian population of Bosnia-Herzegovina.
Croatian is used by most ethnic Croats, not only in Croatia but all over the area of former Yugoslavia and also in parts of Austria and Italy. Many dialects of Croatia's Adriatic coast (Dalmatia) have substrata of the now extinct Romance Dalmatian language.
Serbian is the primary language of Serbia and Montenegro (Crna Gora), and a major language in Kosovo and Bosnia-Herzegovina.
Serbo-Croatian is also used by minorities in other parts of Europe, as well as in the Americas and Australia.
Serbian is primary written with Cyrillic script, but most Serbs can also read and write it with Roman script, the latter of which is used for Bosnian and Croatian.
Like Slovenian, Serbo-Croatian is tonal. In most dialects, a stressed (emphasized) syllable can carry one of four possible pitch tones. With the exception of a few academic works and textbooks, these tones are not indicated in the official orthographies. Unfortunately, some more recently published textbooks have no tonal indications either; the learner is referred to accompanying sound recordings, which is not sufficient for most adult learners.
Genealogy: Indo-European > Slavonic > Southern > Western
---
Click to open the translation: [Croatian] [Serbian]

---
Author: Reinhard F. Hahn