Albanian
---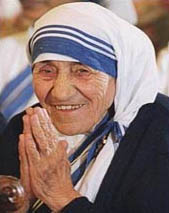 Agnes Gonxha Bojaxhiu (1910–
1997), better known as "Mother
Theresa," is arguably the world's
best-know native speaker of
Albanian. She originated from
Ottoman Kosovo's Uskup, now
Skopje, Republic of Macedonia.
Language information: Albanian makes up its own branch of the Indo-European family tree. Many regard it as being derived from the extinct Illyrian language.
Albanian is generally considered a single language, although some of its varieties are not mutually intelligible. There are two main dialect groups. Gheg (Gegërishte) is used in northern Albania, also in the regions of Former Yugoslavia that are populated by Albanians. The other main group is Tosk (Toskërishte), which is used in southern Albania. Closely related to Tosk are the Albanian (Arbëreshë) dialects of Sicily, Calabria and other parts of Southern Italy, also the Arvanite (Arbëríshte) dialects of Greece and small parts of Turkey.
Standard Albanian, the official language of Albania, is primarily based on Tosk dialects.
Albanian is used in many other countries as well, such as in Germany, Belgium, the United Kingdom, the USA, Canada, Australia, Egypt, Ukraine and the Scandinavian countries.
Genealogy: Indo-European > Albanian
---
Click to open the translation: [Click]

---
Author: Reinhard F. Hahn