Ukrajins'ka
Ukrainian
---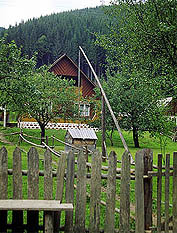 Rural Ukraine, where the Ukrainian
language still has a fighting chance
Language information: Ukrainian is an official language of Ukraine, but, due to long-time colonization by Russia and massive Russian immigration, it now tends to be upstaged by the Russian language even in its own original territory. Ukrainian is used in many other countries as well, especially in neighboring countries, in most republics of the former Soviet Union, in the Americas and in Australia.
Particularly vibrant Ukrainian language communities are found in parts of Canada, the United States of America and Australia.
There are many ethnic and linguistic minorities in Ukraine, but most of them use Russian rather than Ukraine outside their communities.
Genealogy: Indo-European > Slavonic > Eastern > Ruthenian
Historical Lowlands language contacts: (Mennonite) Low Saxon
---
Click to open the translations: [Version 1] [Version 2]

---
Author: Reinhard F. Hahn