Walloon
---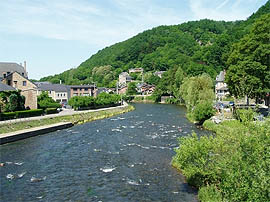 Wallonia—land of industry and idyll,
where Gallia borders on Germania
Language information: Walloon is by many people considered a French dialect group, an alternative view being that it is a language in its own right. It is used primarily in the Wallonia region of Belgium. There are speaker communities in Brussels, in the Northern Ardennes in France as well, also in two Luxembourgish towns (Doncols and Sonlez) and in a small region of Green Bay, Wisconsin, USA.
Like its close relatives French, Champenois and Picard, Walloon belongs to the Oïl group of the Gallo-Romance branch, all of whose members developed on Celtic substrates hailing back to Gaulish predominance of the area.
Walloon has traditional contacts with Netherlandic language varieties, such as Flemish and Brabantish.
Genealogy: Indo-European > Italic > Romance > Italo-Western > Western > Gallo-Iberian > Gallo-Romance > Gallo-Rhaetian > Oïl > Walloon
Historical Lowlands language contacts: Dutch (Flemish)
---
Click to open the translation: [Liège dialect]
[Namêche dialect]

---
Author: Reinhard F. Hahn