---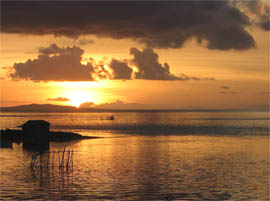 Many Waray-Waray-speaking areas of Samar and Leyte
are destinations for foreign vacationers and retirees.
Language information: Waray-Waray has several alternative names, foremost among these being "Waray," "Winaray," "Samarenyo," "Samar-Leytean" (Sinamar-Leytenhon) and "Lineyte-Samar Visayan" (Binisaya nga Lineyte-Samarnon). Beginning with the middle of the 20th century, these tended to be preferred because it was felt that the traditional name "Waray-Waray" had negative, ridiculing connotations. However, lately there has been a movement back to using and owning "Waray-Waray" in order to ridding it of past negativism.
Waray-Waray is used by approximately three million people, mostly in the Philippine provinces of Samar, Northern Samar, Eastern Samar, Leyte and Biliran. Its closest relatives are the fellow-Warayan languages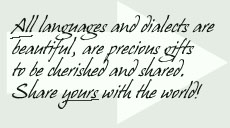 Waray Sorsogon and Masbate Sorsogon, and Warayan is a sub-group of the Visayan group used on several islands of the Central Philippines. Among these, Waray-Waray is used at the eastern end.
Probably partly due to their language and culture having been at the receiving end of chauvinism, many ethnic Waray authors chose to write in Tagalog or English rather than in Waray-Waray, especially during the second half of the 20th century when Waray-Waray newspapers ceased to be puplished and local Tagalog papers ceased to feature Waray-Waray articles and poems. However, the tide is now turning in that there has been an increase in Waray-Waray literature of late.
Genealogy: Austronesian > Malayo-Polynesian&nbsp> Western&nbsp> Philippines&nbsp> Central&nbsp> Visayan&nbsp> Central&nbsp> Warayan
Historical Lowlands language contacts: English
---
Click to open the translation: [Laoang] [Victoria]

---
Other Philippine language varieties: [Click]

---
Author: Reinhard F. Hahn