Ainu
---
Translation: Hiroyuki Yokoyama (

)
Location: Sapporo (Satporo kotan), Hokkaidō (Mosir), Japan
Facilitation: Kazunari Hirano (

), Ichinoseki, Iwate, Japan
Transliteration: Reinhard F. Hahn
Language Information: [Click]

On March 31, 2004, this translation appeared in the Ainu Times (2004/33) with reference to its publication by Lowlands-L and the Japanese translation on which it is based.
---

[Cyrillic Script]
[Western Script]
[Katakana Graphic]
[Katakana Unicode]
---
Чакчак камуй оруспе
Гарэджи оннай та, чакчак сэт ан.
Синеан то та, чакчак мичи чакчак хапо турано, ираманте ва повтари а-эре кусу хопунпа ва пае хинэ, нэ повтари сэт ор ун а-хоппа рувэ нэ.
Ирука ан кор, кор мичи сэт ор ун хосипи ва эк акусу, повтари нэп ка ситома нойнэ сиран.
«Хэманта ан? Ку-кор сион, хунна эчи-койки рувэ ан? Хэманта кусу энэ эчи-ситома хавэ?» сэкор хавэан.
Повтари энэ хавэока хи: «Хо, ку-мичи, поро камиаси корачи ан пэ эсир эк сири нэ. Сонно нивэн пэ нэ ва нануху астома п нэ. Поро сикихи мака ва ун-энучисискэ ва ан на. иёхай ситомарэ!» сэкор хавэока.
«Охайнэ ун, нэ хэманта хунак ун арпа?» сэкор кор мичи хавэан.
«Тоони ун арпа» сэкор похо хавэан.
«Эн-тэрэ ва ока ян, кэсэ к-анпа кусу нэ. нэп ка эчи-эранак ка сомо ки но ока ян. Ку-кор сион нэ хэманта к-оскони ва ку-койки кусу нэ на.» сэкор кор мичи хавэан кор, хопуни ва арпа.
Чакчак мичи ру ситток ор пакно хопуни ва арпа акусу, тоан та апкас пэ район нэ сири нэ.
Корка, нэ чакчак район нэ якка ситома ка сомо ки. нэ район сэтур ка та ран хинэ, «Хэманта нэ кусу к-унихи ун э-эк ва ку-повтари э-ситомарэ рувэ?» сэкор хавэкойки рувэ нэ.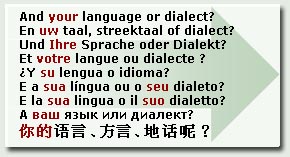 Нэ район анак косирамуйсамтэ кор апкас а апкас а.

Нэ чакчак пон корка рамэтоккор пэ нэ кусу, по хэнэ юпкэно хавэкойки хавэ энэ ан хи: «Тэор ун э-эк куни п ка сомо нэ. Э-эраман я? Суй э-эк кату ан якун, юпкэ но эчи-койки кусу нэ на! энэ ку-ки хи ка к-этораннэ корка ...» сэкор хавэан кор, оатчикири рикинка кор, «Нэун нэ якка суй э-эк якун, ку-чикири ани нани э-иккэвэ ку-кае кусу нэ на!" сэкор хавэан кор, нэ чакчак сэт ор ун хопуни ва хосипи рувэ нэ.

«Эасир, ку-кор сион, танэ пирка ва. Пиркано ку-нурэ рувэ нэ кусу, суй эк ка сомо ки нанкор.» сэкор хавэан.