Cebuano
---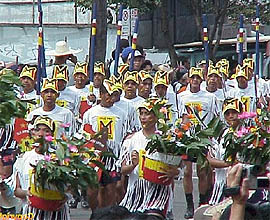 The Sinulog Festival, one of many festivities in bustling
Cebu City.
Language information: Cebuano (also known by the native name Sinugboanon) is one of the most important languages of the Philippines in terms of native speaker number (currently at least 20 million) and in terms of its historical and cultural roles. Had it not been for certain historical events and political turns that ended up favoring Tagalog and thus increasing the number of Tagalog speakers, it would have been Cebuano that would have come out in the national lead. In fact, many Cebuano speakers still resent the Tagalog advantage, including Tagalog as the sole basis of the national Filipino lingua franca. They have been calling for special recognition of Cebuano on a par with that of Tagalog, given not only the large number of its speakers (having been the country's largest linguistic group until the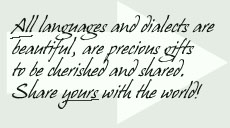 1970s), but also given the important colonial past and cultural leadership of Cebu City, long a stronghold of political opposition to Manila's alleged Tagalog-based "arrogance." Cebuano is used by most inhabitants of Cebu, Bohol, Negros Oriental and some parts of Leyte and Samar islands as well as throughout Mindanao, with some speaker communities in Samar as well. Cebuano is an important literature languages and is prominantly featured in the local media. Cebuano television soap operas are very popular and are broadcast outside the Philippines as well.
Cebuano of Mindanao has developed particular dialects, especially since the 1950s when the island attracted numerous immigrants from other parts of the Philippines. The predominant languages there are Hiligaynon (Ilonggo) and Tagalog besides Cebuano. There are mutual influences between them, making for Visayan and specifically Mindanoa color in all of them.
Cebuano is popularly referred to as Visayan or Bisaya. However, these are collective names for several languages among which Cebuano is one.
Many consider Boholano a dialect group of Cebuano, while others, especially native speakers of Boholano, consider it a language in its own right.
Genealogy: Austronesian > Malayo-Polynesian&nbsp> Western&nbsp> Philippines&nbsp> Central&nbsp> Visayan&nbsp> Cebuan
Historical Lowlands language contacts: English
---
Click to open the translation: [Cebu City] [Davao City]

---
Other Philippine language varieties: [Click]

---
Author: Reinhard F. Hahn