Crimean Turkic (Crimean Tatar)
---
Listen to this translation narrated with native pronunciation:
Translation: Fikret Soysal
Facilitation: Mike Szelog
Transliteration: Reinhard F. Hahn
Language information: [Click]

---

[Turkish-based spelling] [General Roman Spelling] [Cyrillic]
---
Шалыкъушу
Вакътынъ биревунде шалыкъушунунъ джувасы дамынъ быр кошесиньде экен. Быр кунь анне мен ата шалыкъушу балларына аш топламагъа ушуп кетип къышкене балларны озь башларына ташлагъанлар.
Таа сора ата шалыкъушу ювге къайтып кельгенде, "Не болду мында шу? Сизге къым зарар берди, баллар? Бек къоркъкъасынъыз да" деп айткъан.
"Ай, ата" дегенлер, "быраз эввель балабан быр джанавар кельды. Бек йаман коруне эды! Козльерины акъыйтып джувамызкъа къарады. Быз де бек къоркътукъ."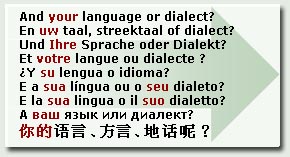 "Демек олай!" деген ата шалыкъушу, "КЪайда кетты шимды?"

"Анау анйакъа агъашларкъа кетты."

"Сыз би йерде бекльенъиз" деп айткъан ата шалыкъушу, "мен артындан кетемен. Энде меракъ этменъиз, баллар, ону тутаджакъман." деген сонъ ушуп джанаварнынъ изине тюшкен.

Агъашларгъа барып джолунъ айлангъан джерге келькенде джюрген асланны корген.

Ама эш къоркъмагъан. Асланынъ юстюне къонуп кокурген. "Нешын меным ювюме келып балларым къоркъуттунъ?!"

Аслан туймаздан келып джюреберген.

Мынау шалыкъушуну таа да быр кыздыргъан. "Анйакъта эш быр ишинъ йокъ эды. Саа айтаман, быр таа къайтып кельсен о вакыт корурсунъ къунунъ. Мынауну эш йасамакъ истемеймен ама" деп бир айагъыны авайа къалдырып, "белини айагъымман къыракъойарман."

Таа сора да ушуп джувасына къайткъан.

"Баллар," деген, "анау эрипин дерсини бердим. Быр таа кельмеге къоркъар."