Danish
---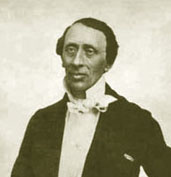 Hans Christian Andersen (1805–
1875) is widely regarded as being
the pioneer master of the art of
written Danish storytelling.
Language information: Danish is the official language of Denmark. In the Faeroe Islands it is official alongside Faeroese and in Kalallit Nunaat (Greenland) alongside Inuktitut (Greenlandic). It was the official language of Norway until 1830 and of Iceland until 1944. Danish is also one of the recognized minority languages of Germany. Like all other Scandinavian languages, Danish underwent massive direct and indirect influences from medieval Saxon (often erroneously referred to as "German influences"), the language of the Hanseatic Trading League. There are also a few traces of Danish influences in certain Low Saxon dialects of Schleswig-Holstein, hailing from the time of Danish rule.
During much of the 18th and 19th centuries and until 1948, Danish was predominantly written with a specific subset of the Latin alphabet, called Fraktur, used also for German and some Central European languages. Like German orthography, official Danish orthography used to require that nouns be capitalized. In other words, the initial letter of a noun must be a capital letter. This rule, too, was abandoned with the end of World War II, as was the spelling as aa of what is now å, consistent with Norwegian and Swedish conventions.
Geneology: Indo-European > Germanic > Northern (Scandinavian) > Danish-Norwegian > Danish
Historical Lowlands language contacts: Low Saxon
---
Click to open the translation: [Click]

---
Author: Reinhard F. Hahn